Third Floor, Derwent House,
42 - 46 Waterloo Road,
Wolverhampton, West Midlands,
WV1 4XB
Housing: 01902 429163
Support team: 01902 425751
Emergency Call Out: 07958 703950
Email: infowolv@ach.org.uk
Some of our courses have now moved online as a result of the COVID-19 pandemic. This means we can offer some classes run from Wolverhampton to those living in Bristol, Birmingham and Coventry.
The Effective Digital Entrepreneurship & Business Support (EDEBS) project
The Effective Digital Entrepreneurship & Business Support (EDEBS) project aims to reinforce the launch, stabilisation and growth of non-EU migrants' businesses through personalised business support.
1-1 Business & Entrepreneurship Support from business experts in various industries.

Advice & Training Modules on Product Development, Ecommerce, Marketing, Social Media, HR, Customer Acquisition & Retention.

No time limit or cost, even if you are already on a government programme or supported by another organisation.

Help exploring self-employment, setting up a business or supporting an existing business.
When? Starting in January 2021
Where? In the West of England and West Midlands
How do I enroll? To find out more information or to enroll someone/ yourself for personalised business support, please email: Sonia.Nazir@ach.org.uk OR phone: 07506 163130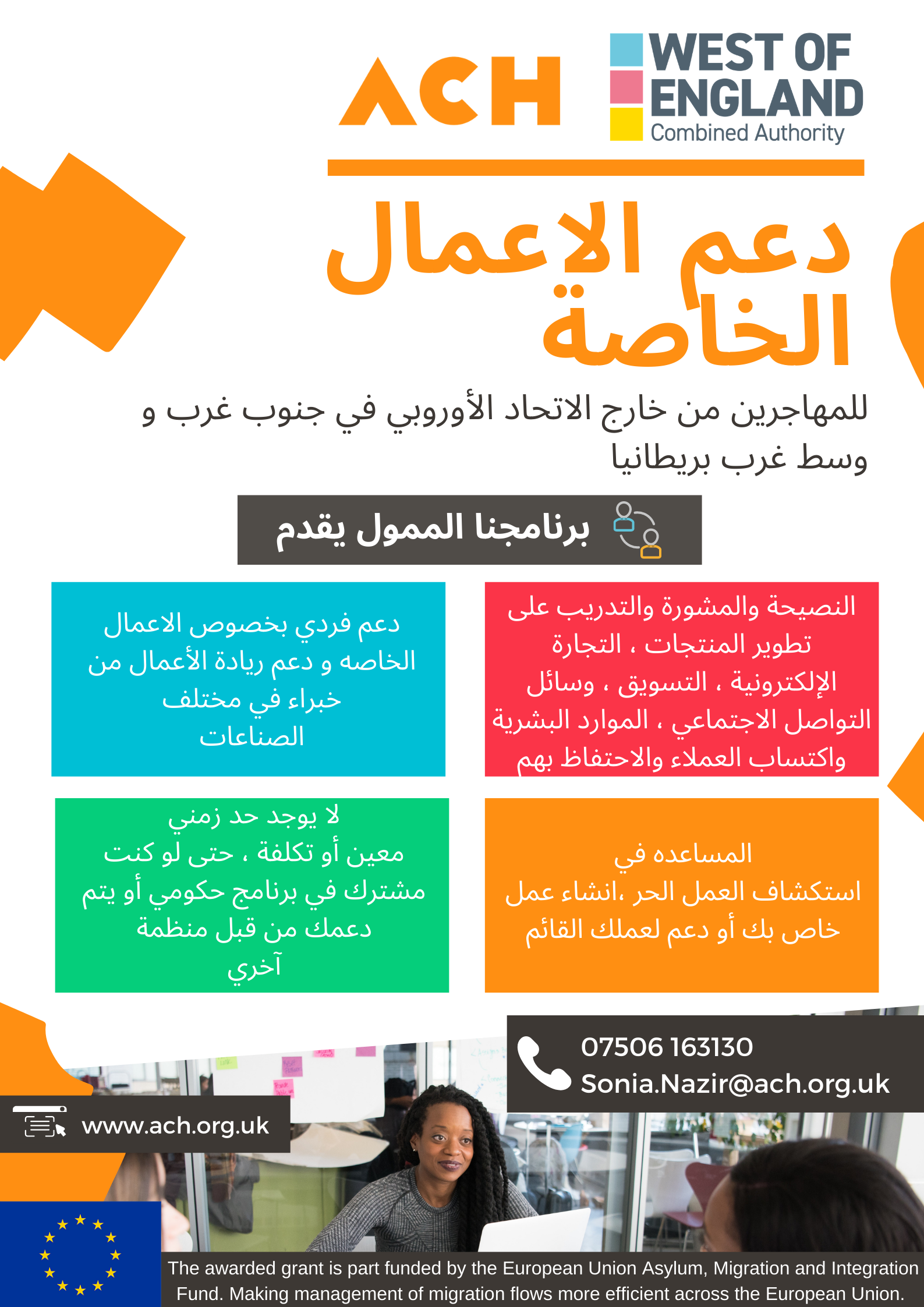 The awarded grant is part funded by the European Union Asylum, Migration and Integration Fund. Making management of migration flows more efficient across the European Union.
Digital Accelerator Programme
The Digital Accelerator Programme is designed to increase the digital skills of West Midlands residents and help them with applying for vacancies in digitals roles.
Learners will be able to align their skills and personality with in demand job roles.
Learners will engage in online learning, receive guidance from mentors and work on real projects to create a portfolio.
As a minimum all participants will gain the IBM 'Working in the Digital World' essential badge, which can be uploaded to your CV and LinkedIn profile.
When? Starting January 2021
Where? Online
How do I enroll? Email: digitalskills@ach.org.uk