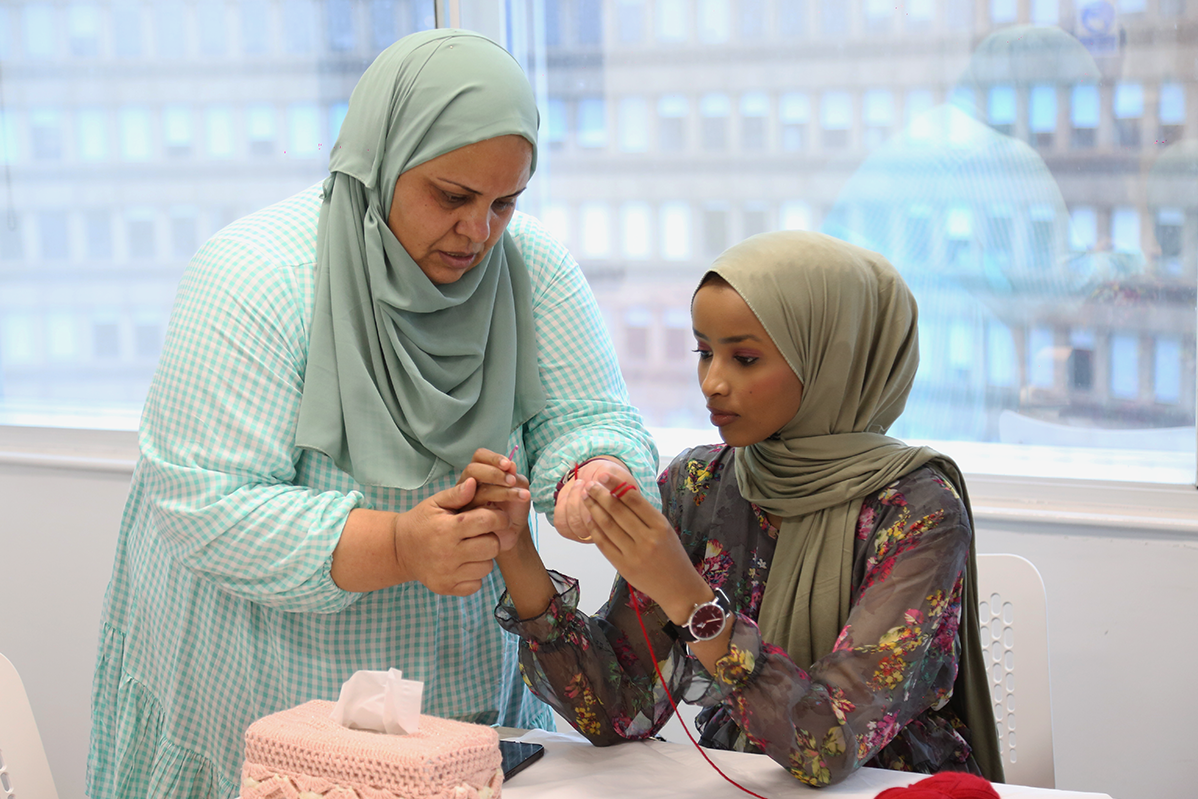 Bringing Communities Together: The Commonwealth Games Project
Today, on the 28th July, the Commonwealth Games start in Birmingham! We are thrilled and proud to welcome international athletes and visitors to our wonderful city.
At ACH, we are also proud to have received funding as part of the Stronger Communities Commonwealth Games Legacy Fund from Birmingham City Council to bring people in the city together through the games year, and beyond.
Keep reading to discover how this funding will create a safe environment for women from a refugee and migrant background to forge long-lasting connections and dialogues with others in their communities.
The Commonwealth Games 2022 start today in our wonderful city of Birmingham! The Commonwealth Games has at its heart, an aim to bring people together: from different parts of the world, but also to bring the whole city together. In fact, one of the mission statements of the games is:
'Inspire, engage and connect communities and athletes to realise their full potential and live happier, healthier lives.'

-Commonwealth Games, 2022
At ACH, we aim to empower refugees and migrants who reside in the UK to lead self-sufficient and ambitious lives and work to break down the barriers that stop our communities reaching their full potential. That's why we were thrilled to receive funding as part of the Stronger Communities Commonwealth Games Legacy Fund, from Birmingham City Council and in partnership with The Centre for Voluntary Action and Strong Communities. This funding will bring women from a refugee and migrant background together to build stronger connections and build a safe space in the city.
'We are thrilled to be able to offer this project to raise aspirations, build confidence and create a safe space for women in the refugee and migrant communities in Birmingham. This funding will forge connections and networks which will lead to exciting new opportunities for our clients to thrive and grow in Birmingham'

-Sukhi Johal, Careers and Enterprise Officer, ACH
How will the project bring women from a refugee and migrant background together?
The project is bringing women together by hosting regular coffee mornings where women can come together to practice their English, discuss their experiences of life in the UK in a safe space and to discover more about opportunities and build confidence in their aspirations. Feedback from our participants suggest those involved have found a sense of community belonging when meeting together and feel valued drinking coffee together and sharing their experiences. Our aim is to connect our participants with opportunities and empower women to become community champions and gain the opportunity to develop workshops based around their skills and hobbies.
Recently, our brilliant community champion Amina led a workshop demonstration on how to crochet, displaying her wonderful work to the group as inspiration. It is our aim to work with women to find out what they're interested in, develop innovative workshops and signpost those interested to our Business Consultants who can help them to explore the idea of entrepreneurship.
How will the project open up opportunities for participants?
We want to work with participants to discover their aims and ambitions. Currently, negative stereotypes and broken systems in the UK mean that 75% of refugees and migrants have no opportunities beyond low-paid, entry-level employment. Our vision is to empower refugees and migrants who reside in the UK to lead self-sufficient and ambitious lives. We believe that increased access to support, training and education creates spaces and opportunities for people to thrive.
So far on the project, we've recruited four volunteers, including two translators, one teaching assistant and one Housing Support Worker. Through work experience, we hope our participants will feel empowered to enter the world of work and think about what aspirations they may have in their careers.
Ultimately, this project is all about creating a safe space for women from diverse communities in Birmingham to explore their hopes and ambitions in the city, and work with them to co-create opportunities and innovative ways of empowering and developing their ambitions.
Interested in finding our more about the project or want to make a referral? Contact Sukhi at sukhi.johal@ach.org.uk
All photos appearing in this blog were taken by our incredible volunteer, Hamid!