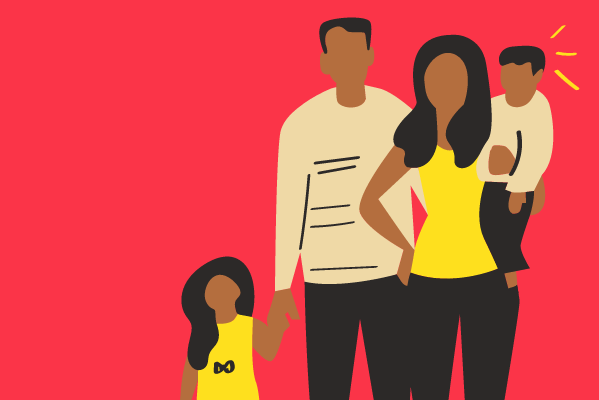 'Bringing my family together': A guide to the process of family reunion
Imagine being parted from your closest family. Maybe that is a reality many of us can empathise with more sharply since the effects of COVID-19 have changed our lives so completely over the past year. However, for many people with refugee status in the UK, being torn from your immediate family has been a reality for years and across many hundreds of miles.
Assisting our tenants with family reunions is one of the most important and rewarding services offered by ACH, but it can be a long, frustrating and arduous journey. Our wonderful support team in Bristol have put together a step-by-step account of the process of family reunion to show you how the process works…
ACH works closely with the Red Cross and legal firms to reunite refugees with their direct family.
Once a person has been granted refugee status in the UK, they have the right to apply to have their direct family (spouse or children) join them. In 2019, the Home Office granted 7,482 visas, with Eritrea, Sudan and Iran being the top three countries applying.
Many of our tenants have not seen their family for several years, and could have left suddenly or during a particularly dangerous time.
The application process can be time consuming, frustrating and emotional, with lots of legal hoops to jump through. On average, ACH Bristol has a family or spouse arrive every month. The process can take between three months to a year if there are any barriers to collecting the required evidence, or if it is a complex case.
Keep reading to find out the process of the family reunion application and ACH's role…
When to apply?
When we welcome a new tenant at ACH, our support team discuss their family abroad with them during their initial assessment. Some tenants wish to wait a while before applying, wanting to settle in to life in the UK first by learning English, finding work and securing more permanent housing, but some tenants are keen to start the process immediately.
Only certain family members can join (married/long term partners and children under 18 who are not living an independent life). Some refugees are not aware of this when they leave their home countries and so it can be distressing when they realise they have to leave some family behind. It can also be difficult for many tenants to get their family to a safe place to start the family reunion process (many apply from a third country, as their home country is too unsafe) and many lose contact with their family for long periods of time.
The First Step
Our support workers will signpost to the Red Cross or lawyers specialising in immigration when a family reunion request is made. The Red Cross will currently apply for legal aid for three or more relatives; however, many tenants have to pay lawyers privately if it cannot be funded. This can cost the tenant upwards of £500.
Collecting Evidence
When working with the Red Cross or a lawyer, tenants are required to provide specific evidence. Our support workers assists with this, printing out 6 months' worth of online correspondence (e.g. WhatsApp conversations) or copying marriage or birth certificates. The children of the tenant need to provide a DNA test, which can be difficult in some countries. Sometimes TB test certificates are also required. This creates a bundle of information to bring to a visa appointment and prove a strong case for a reunion.
Visas
Lawyers need to fill out various forms for the bundle and families will need to attend an embassy appointment. This can be a worrying time for tenants and family as visas can take up to three months to be approved.
Unexpected situations can also slow down a person's an application. Over the past year, COVID-19 has made the process even more complex due to travel restrictions, limited appointments and border closures. Unstable political situations and war zones can restrict movement in many countries, making it difficult to travel independently to receive a visa.
Arrival
Our tenants can apply for the Red Cross family reunion travel assistance scheme, which can organise and pay for family members' travel after their visa is approved. This can be a stressful time for the tenant (and support worker) as within two weeks of arrival the family must pick up their biometric resident permits and begin looking for their move on accommodation. Everyone over 16 can apply for a National Insurance number and the support worker needs to update ACH's records, update any benefits claims, and make a referral to the GP.
It is also an emotional time for the family, when they are reunited, often for the first time in years. One of our former tenants, having gone through the process said:
'I started my family reunion application in Sheffield, but when I became a tenant with ACH, they supported me to complete it. They contacted the Red Cross to support with my flight tickets and helped fix an error with my son's ID card. ACH gave me a lot of moral support with Family Reunion and I am now a council tenant and I have applied for university. I really appreciate ACH's help in bringing my family together.'
Cultural Integration and Adaptation
However, the family's journey does not end at the moment of reunion. Many family members have never left their home countries and have to quickly adapt to a change in climate, language and culture.
Our support workers can help them by discussing things like: buying appropriate clothes if arriving in winter and enrolling children at school and signposting to groups/college. It is especially difficult now during COVID-19 and it is important that the family know and understand the situation and the lockdown in the UK. This also means there are reduced groups and activities to support language learning and integration. We have to be creative in finding other ways to support and interact with clients in this unprecedented time, signposting to online groups and support, and using WhatsApp to keep in touch.
Housing
Many families are put into temporary accommodation from the council and it can be a long wait until a move somewhere permanent. There is a housing shortage in Bristol and it can be frustrating for tenants to wait long periods, especially with the restriction of activities permitted due to the pandemic.
Another one of our tenants who has been through the family reunion process, said:
'ACH have supported me with the family reunion process. My support worker helped me with the paperwork. I wanted my wife to come to the UK as it is a safe place. I am very happy to be with my wife now. It is difficult sharing a house, but we will move to a council house soon. I want to say thank you to ACH for all their help. They have housed me for six years.'
Despite the hurdles involved, last year ACH supported six successful family reunion cases in 2020, and these families are enjoying their integration, learning English, attending courses, and working towards a positive new life in the UK.
We wish them the best of luck, and look forward to another year of reunions!