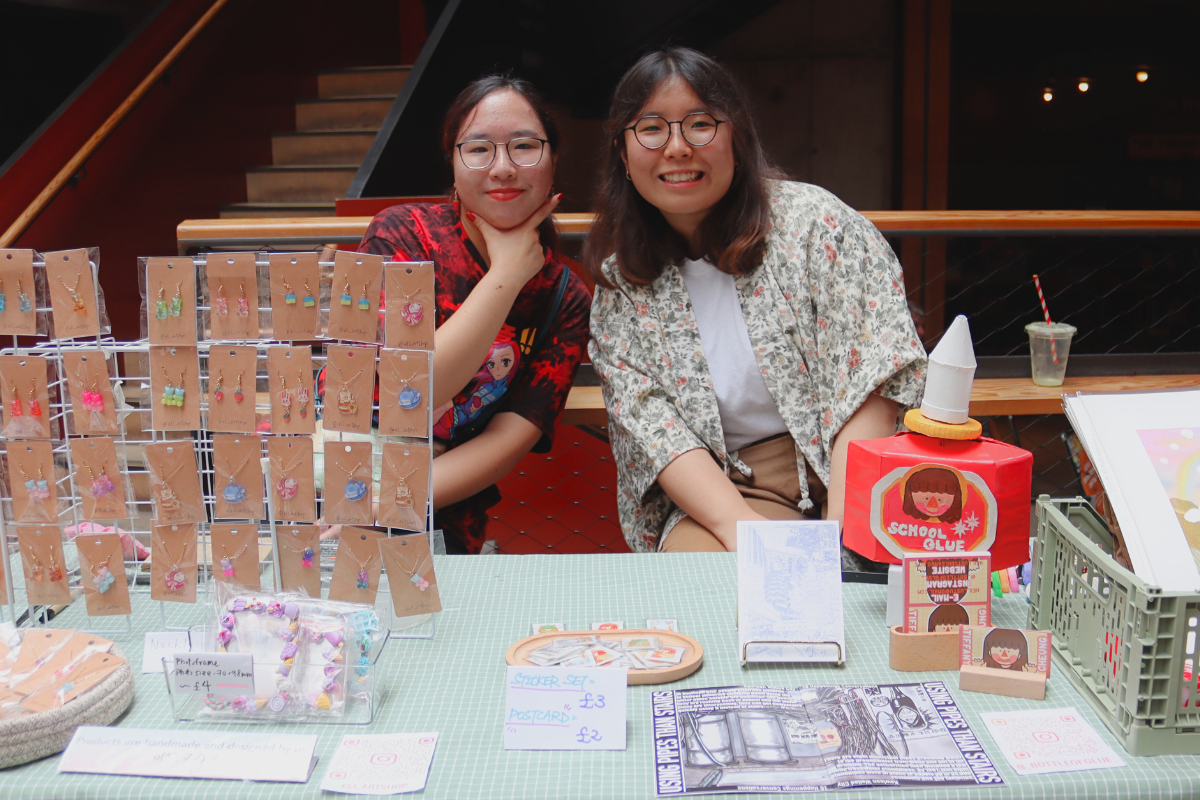 Business Spotlight: Friendship to Entrepreneurship, Meet Elita and Tiffany
Meet Elita, a talented artist who moved to Bristol two years ago, and Tiffany, a skilful student pursuing Illustration at the University of the West of England. Their paths converged, leading to a beautiful friendship that revolves around their shared passion for art and a commitment to helping each other grow.

Keep reading to find out more...
Elita's Artful Journey
Elita has always been a creative and artistic individual from her childhood. Just a few months ago, she founded Eli Art Shop with the aim of showcasing and marketing her own products. At Eli Art Shop, she sells accessories and colourful stickers that she designs and produces herself (gummy bear earrings are our favourites!). Eli conducted extensive online research to determine where and how to showcase and sell her products. Through this research, she came across ACH and connected with our enterprise facilitators. Elita already knew what she wanted to sell and was quite determined, but she needed support in areas such as insurance and market opportunities. The business regulations are different in every country and can be daunting for those unfamiliar. This is where our enterprise facilitators stepped in and provided consultancy to support Elita in selling her products.
"I absolutely adore the welcoming atmosphere in the UK, and I'm genuinely grateful for it. Throughout my time here, I've had the pleasure of connecting with many truly incredible people."  Elita shares.
 
Tiffany's Ambition in Illustration

As a successful Illustration student at UWE, Tiffany has always been a creative soul. In addition to the mandatory school projects, she always had the innate drive to achieve more. She became aware of ACH through an event and, at that time, was looking for ways to expand her network and begin her start-up. Like Elita, Tiffany had also launched her own venture, "Bottle of Glue," but she desired to share her designs with a broader audience. Following her initial encounter with us, she became part of the Migrant Business Support Project. "Exploring specific communities can present challenges, leaving you uncertain where to begin. However, ACH offers a solid foundation and valuable insights to help you get started." Tiffany shares.
 
The Union of Dreams
Elita and Tiffany crossed paths in the UK and forged a deep friendship rooted in their love for creativity and art. They have continued to encourage and inspire each other on their artistic journeys.
"At certain events, we find ourselves sharing a table, and it's truly wonderful to have great company during these occasions. I remember at the Ben and Jerry's festival, it was quite windy, and the wind caused my belongings to scatter. Tiffany came to the rescue with some tape, offering much-needed help. Additionally, our mothers joined us at some events, showing their support, and they too formed a friendship, mirroring ours." -Elita.
 
Support from Our Business Advisors
Both Elita and Tiffany have found valuable support through our business advisors, Shalini and Eloise. They have supported Elita and Tiffany with navigating the business ecosystem in Bristol and have expanded their network by connecting them with other like-minded entrepreneurs.
I've met many people, especially at the Ben and Jerry's festival. I have learnt a lot from my network, and they always want to help me with my business. They gave me advice about some courses, informed me about some job opportunities etc. Also, I like meeting new people and talking about different cultures. I think it is rewarding and gives me motivation. -Tiffany

Elita adds, "I attend Bristol Old Vic x ACH Craft Fairs regularly and learned from the customer's feedback. Engaging with my customers allows me to gain insight into their preferences, helping me determine the ideal pricing for my products. Their support boosts my energy and reminds me to keep moving and not give up!

Advice to New Businesses
Do the research first, and save up enough money to start a business; that's very important. Ensuring that your materials are high quality is essential, but staying within your budget is equally important. Managing your budget initially is important because you don't earn then! Additionally, avoid producing too many products, as you won't know which ones would be popular. Instead, experiment with different variations of products to test their potential. -Elita

A Future Bright with Creativity
Elita and Tiffany are artists on the cusp of their creative journeys, with boundless possibilities awaiting them. Their experiences in the UK, their enduring friendship, and the support they receive from us have played a part in shaping their dreams into reality.
"Recently, I learned a different printing technique, and it is impossible to do that at home; I need to work in a studio. My dream is to one day have my own studio where I can work freely. Also, I want to do mural paintings. I find it inspiring when window paintings showcase the soul of a shop, and I aspire to create similar works of art. " Tiffany concludes.
In a world where dreams and passions converge, Elita and Tiffany are a testament to the power of friendship, art, and unwavering support, making the UK their canvas for a colourful future.

 
Thinking about setting up your own business?
ACH offers free personalised support with the launch or growth of your business. Contact us to find out more or visit our webpage.
Email: business.support@ach.org.uk