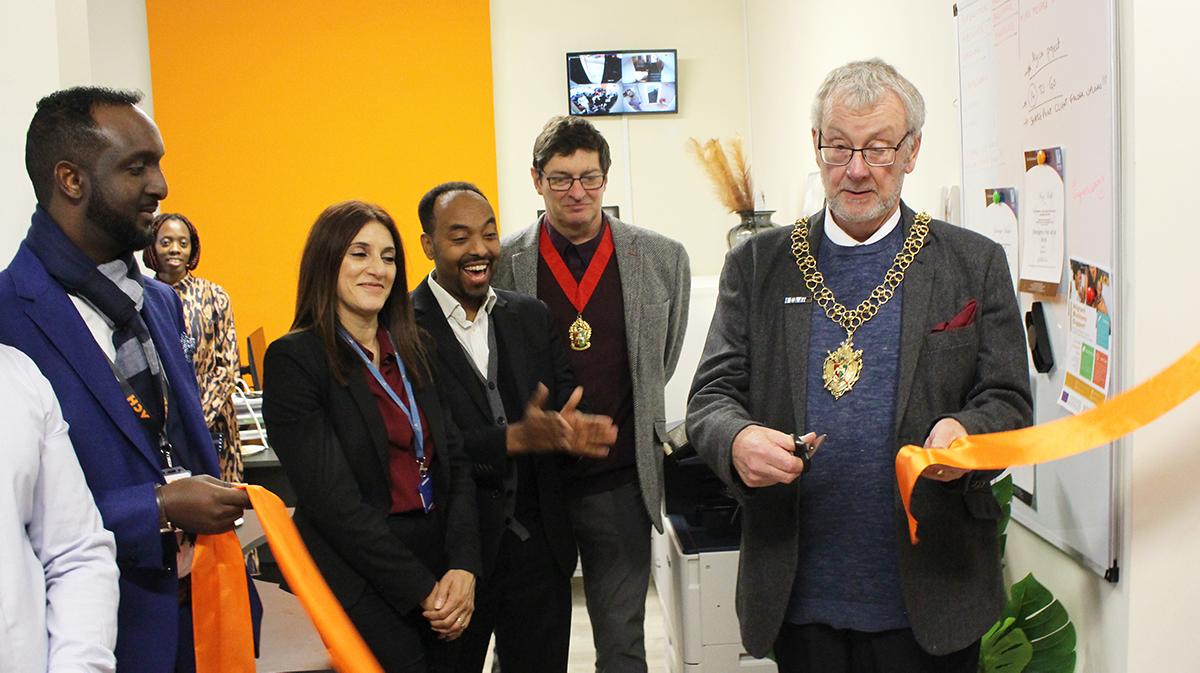 Celebrating a new office for ACH Coventry
This week, we officially opened our new office in Coventry.
With this move, we'll be able to deliver real change for refugee and migrant communities in Coventry, providing housing, support and employment training for more people in the city.
Keep reading to find out more about our work in Coventry, and the difference our new offices will make.
In August 2019, we established ACH Coventry, after speaking to Coventry City Council and realising there was a large demand for refugee support and integration services in the city. With the help of the council and our partner organisations in Coventry, we decided to set up an office in the city to help drive a better future for refugees and migrants.
Since starting ACH Coventry in 2019, we have:
Supported 6 tenants in job interviews

Spent 1560 hours supporting tenants

Set up 5 ACH houses

2 family reunions

2 projects

38 tenants
ACH Coventry is lead by Harj Malhi, our Project Implementation Lead. Harj said:
'Having established an excellent community partnership and a strong working relationship with the council, we have been able to successfully deliver programmes within projects such as, Ignite Integration and MyCoventry. Together providing impactful support to refugees and migrant's; aiding their integration and development whilst helping to fulfill their ambitions and become more economically prosperous.'
Negative stereotypes and broken systems in the UK mean that 75% of refugees and migrants have no opportunities beyond low-paid, entry-level employment. This was the reason we started our first project in Coventry, called Ignite Integration. Engaging with 169 refugees and migrants in Coventry, the project helped 30 individuals progress onto their first career, bridging employment 6-12 months earlier than without intervention.
We're proud of all the work we've done so far in Coventry, from opening supported houses to help end homelessness for vulnerable refugees in the city, to providing wellbeing and advocacy workshops to refugee and migrant communities in the city.
Most recently, we've been partnering for change through the My Coventry Project. On the My Coventry project, we're one of five partner organisations working to provide support for newly arrived communities to integrate into life in the UK. We provide courses through this project such as Hello Job, Hello Neighbour and Advocating for Myself. These courses guide learners through issues such as employability, CV writing, interview practice, English skills, health services and mental health and wellbeing.
As a result of our expansion in Coventry, we recently moved into our new offices near the city centre. This new office will help us to continue to support newly arrived communities in the city, and offer supported housing and integration training. To officially open the new office, we invited the Lord Mayor of Coventry, Councillor John NcNicholas and Councillor Kevin Maton to cut the ribbon and celebrate our team's hard work, saying:
'Thank you all at ACH for all you do for Coventry, and the way you work with the Council's Migration Team and other organisations to provide the best support possible and a smiling, welcoming face to go with it. We are so proud of Coventry's reputation as a city of welcome. We're the city of peace and reconciliation, and I'd say, of languages, of friendship, of culture, but more importantly we're a city that's as strong as it's people'  - Lord Mayor of Coventry, Councillor John McNicholas
We want to say a special thank you to Coventry City Council's Migration Team, Positive Youth Foundation (PYF), Job Shop, St Francis Employability and FabLab Coventry for helping and working with us to make a real difference to our city!
Get in touch! Have a question or opportunity for our team in Coventry? Contact us here:
2nd Floor, 4 Queen Victoria Road
Coventry, CV1 3JH

Telephone : 0247 531 2470
Email : infocov@ach.org.uk