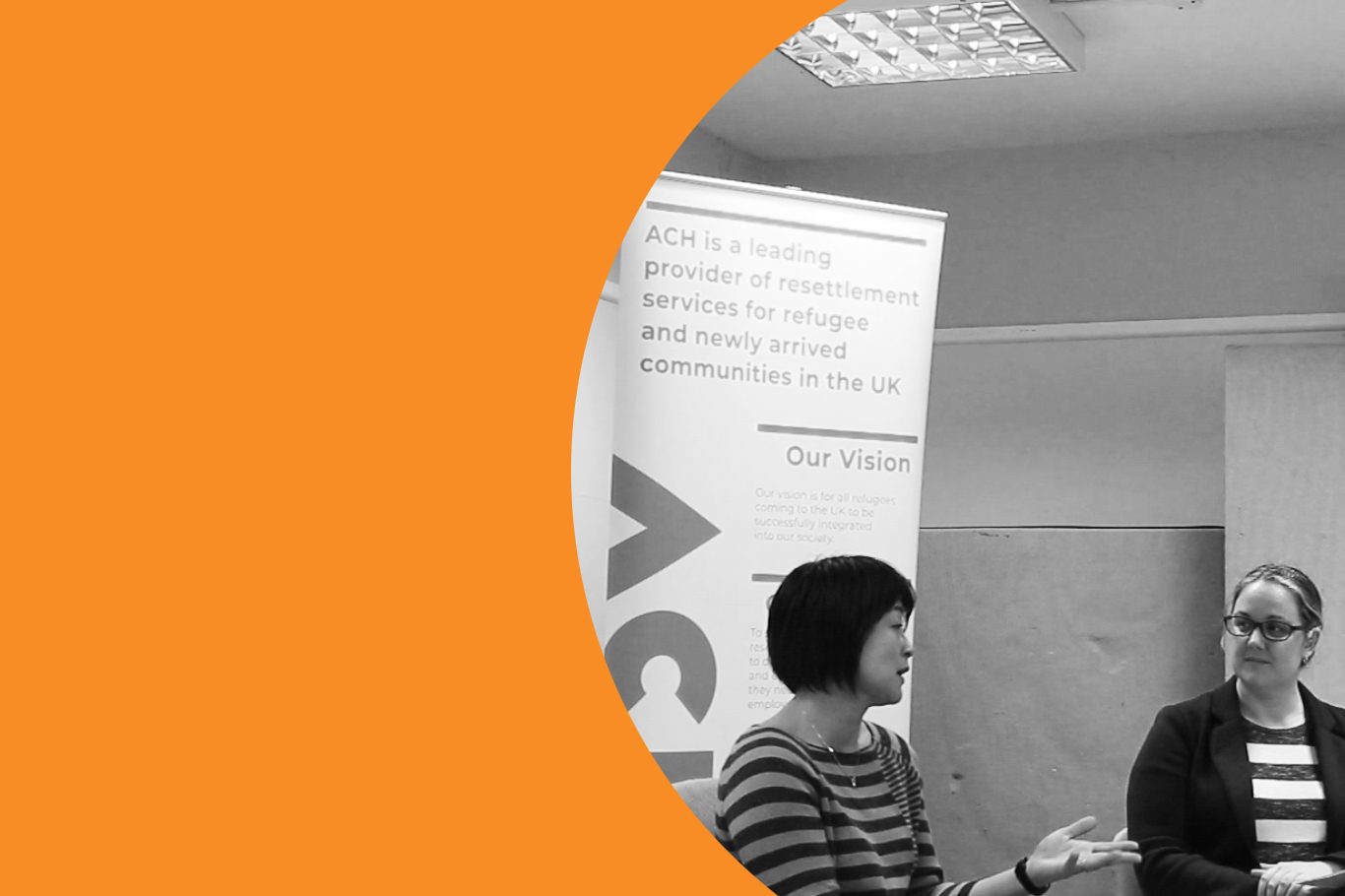 Navigating Business: An interview with Thanh Quan-Nicholls
Thanh Quan-Nicholls is a businesswoman, a consultant and social enterprise leader working for gender equality in the tech industry. She has recently taken on the challenge of distributing EU Digital Innovation Funds to businesses during the coronavirus pandemic.
After spending many years working in the public sector to drive positive social and economic change, Thanh took on the challenge of running businesses, founding social enterprises and starting up as a self-employed business consultant.
We caught up with Thanh at our International Women's Day event for budding entrepreneurs taking part in our Refugee Entrepreneurship Project. Here our Entrepreneurship Lead, Lydia Samuel picked Thanh's brain about all things business…
Can you tell us a bit about your background?
My family were Chinese-Vietnamese. In 1978 there was a lot of persecution and ethnic cleansing of Chinese-Vietnamese people in Vietnam. Lots of people left. Chinese people were particularly persecuted because they were predominantly business people. Under the communist regime it was a difficult environment to be in.
So we fled the country by sea. However, the rudder of our boat broke, and we got caught in a typhoon. There were 350 people on the boat and we all thought we were going to die. By chance a Scottish merchant ship saw our last flare... They had to decide whether or not they would rescue us and luckily they did!
We were put in a refugee camp in Kensington, London. The conditions were awful and my family took the first opportunity to move to Peterborough, where I grew up.
So what led you into business?
I accidentally went into business, I actually never wanted to go into business at all. I wanted to give something back to the society that saved my life. I spent 16 years in the public sector working on economic development and regeneration programmes.
And then about 6 years ago, we were going through the recession and the public sector was shrinking rapidly. I had become Head of Economic Development at Bristol City Council. I had to reduce my team by half so I went through six months making people redundant, and at the end of that process I took redundancy too.
Fortunately, I was recruited by a crowdfunded start-up business, NearDesk, to create partnerships and promote the business in the SW. The business brought together people who worked in co-working spaces with people who provided co-working spaces across the UK. There was a side business which was a coworking space, created to test the software. I accidentally ended up running the space that we opened up in Bristol – I did two jobs – promoting the software business and running the co-working space.
The software business did not succeed, and it closed down a few years ago. The business that we thought was an experiment became really successful, growing to 3 locations. I missed working in the public sector so about 10 months ago I left the business. I then set up an economic development consultancy, and am working with the public sector again.
Can you tell us about Women's Tech Hub?
I met Serrie Chapman and Constance Fleuriot while I was at DeskLodge. They invited me to be a co-founder in a not-for-profit called Women's Tech Hub. We wanted to help support women as we are still under-represented in tech work environments.  
Women's Tech Hub works with women and tech companies to improve gender equality. We run a couple of meet-ups a week where women get together for support and to teach themselves tech skills - stuff like coding, web design or machine learning (Artificial Intelligence) or even public speaking because not enough women are speakers at tech events.  
We run inclusive jobs fairs – because they can be difficult places for women. We do a lot of work to help employers change their view of women and to help them recruit and to create inclusive environments for women in their teams.
Can we talk about failure in business?
I can definitely talk about failure! The best learning happens when you fail. I've learnt a lot from working with start-ups.
With the co-working software, the founder of the business had a great idea, but the timing was wrong.
Neardesk was quite successful – we had 300 locations across the UK, and 200,000 members. Sadly, we never made any money! In the end we let it go. On the other hand, the business that was accidental turned out to be a commercial success.
I learnt that I shouldn't be afraid to fail because you always learn something.
Talk to us about the 'discovery phase' of starting a new business?
The discovery phase is about learning, it's about responding to your customers, and it's about changing the product if you've got it wrong. It's about keeping a open mind. It may be that you're in that discovery phase for quite a long time. It's hard to ask people questions when you might not want to hear the negative answer. It's your market research. It's really important to go through a discovery phase to make sure your business idea works in the real world.
Is there a space for temporary projects? Can you start something small and test it to see if it turns into something bigger?
Yes of course! Working in an agile way is all about taking an idea and thinking of the minimum thing you need to do to get it off the ground. For example, if you're going to make hot sauces, make a small amount and sell it to family and friends – see if they like it and get them to give you feedback. Test, refine and then make some more. It's the best way to start a business.
What risks have you taken throughout your career?
I actually don't think I've taken enough risks. I've yet to take the huge risks that some people take in their business career. I definitely haven't earnt enough money so I know I haven't taken enough risks! I suspect that the bigger the gamble, the bigger the gain. Like most women, if I'm honest, we take less risks. And that's okay.
Have you had a mentor?
I currently have two mentors. I think it's really good for me. For years I thought you could have only one mentor. A few years ago, I went to a talk about mentors. The advice was to have lots of mentors because it's important to talk to different people and get different views and advice. You then take all that experience and make up your own mind about what you should do.
How important is networking?
Networks are everything. People do business with people. People buy from another person. At the end of day, when people part with their money, its because they believe in you, your products, and  your services.
It's the same with i­nvestors. It's important in business to get out there and build your networks. You have to get outside of your comfort zone. Networking gets easier the more you do it.
What role do women have supporting other women in business?
Women are absolutely brilliant at supporting each other. I find women are great at proactively introducing you to other people and promoting your business to new contacts.
Have you thought about legacy? How important is that for you?
No, I'm not thinking about legacy. The Dalai Lama says 'Be the change you want to see in the world'. So, if I see something's not working, I'd like to not just ignore it, but to be part of the thing that fixes it. I'd like to know I didn't just pass through.
What's next for you? What are you doing now?
I've started a new project at UWE Bristol delivering Digital Innovation Funds supporting small and medium sized enterprises - that's companies from one-woman bands up to 250 people. There are grants of £10,000 - £40,000 for digital innovation projects matched at 35% of the total project. It's for any business in any sector but they need to be based in the West of England area.
For example, if you have a project that costs £29,000 you would invest £19,000 from your business – and we would then pay £10,000 towards the project.
The first call for projects will be in early June, and there is £1m of grants for businesses. There will be more calls over the year. If you think you have a suitable digital innovation project please get in touch with me at thanh.quan-nicholls@uwe.ac.uk. UWE can help you with your application. We'd be delighted to hear about your innovative project.