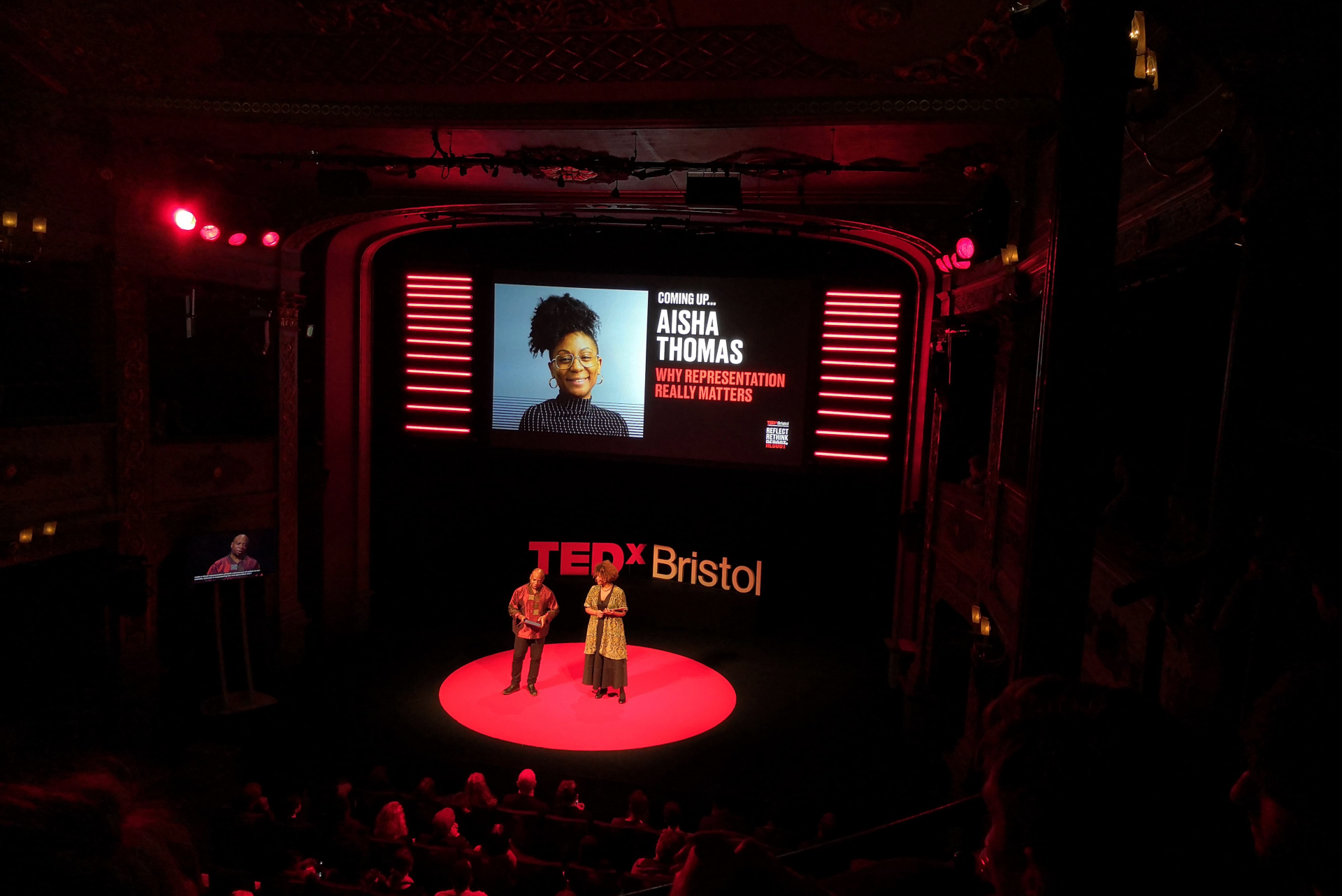 Refresh, Rethink, Reboot: ACH goes to TED x Bristol
Refresh, rethink, reboot. Is this the secret for innovative thinking?
Last week, we had the incredible opportunity to take some of our clients on the Refugee Entrepreneurship Support Project to TED x Bristol.

It was the perfect event for entrepreneurs with great ideas to watch talks from other innovative people with great ideas. Ideas lead to more ideas!
Read

on

to find out who we saw and what

ideas

we took from TED x Bristol...

 
What is

Ted X Bristol

?
TED x Bristol is part of TED, a nonprofit with the aim of spreading innovative ideas through short but powerful video talks.  
TED is a global initiative, and encourages people from all backgrounds, cultures and experiences to share and hear different ideas and perspectives. They believe passionately in the power of ideas to change attitudes and change the world. 
The theme of this year's TED x Bristol event was Refresh, Rethink, Reboot. In the words of the organizers, the aim was to think about this question... 
'How do we unpick things that don't work, steady our focus and create positive change in a world of constant flux?' 
Our entrepreneurs on the Refugee Entrepreneurship Support Project are working to develop businesses that respond to things in the world that could work better, and so we thought it would be an ideal opportunity to get some inspiration and fresh ideas and hear from incredible speakers. 
We went to the Rethink session. At ACH one of our campaigns is the #rethinkingrefugee campaign, which aims to unpick negative representations of refugees and change the narratives to create positive change and new dialogues. 
What inspired us?
Kicking off the rethink session, was Aisha Thomas. Aisha Thomas is a teacher, and Assistant Principal at City Academy, Bristol. She campaigns for inclusion and for more BAME teachers in Bristol. Currently, 1.9 % of teachers in Bristol are black, as opposed to 6% of the population.  
'Everyday BAME students are educated without seeing themselves in the curriculum or environment' - Aisha Thomas 
Aisha spoke passionately about how we need to rethink representation in order to provide role models and pathways for next generations.  
Aisha Thomas' talk about rethinking representation made us think about ACH's campaign #rethinkingrefugee. We need to think about the narratives and representations we make, in order to bring about positive change and pathways.  
We also heard from Holly Stoppit, a dramatherapist and real-life clown. Holly talked about her journey, learning to help people with mental illness and confidence through play and clowning.  
She made us think about clowning and entrepreneurship. Just like starting a business, performing is risky and has the potential to fail.  
'Clowning is full of risk. Instead of trying to get things right, clowns learn to teeter on the edge of the flop with joy, keeping their hearts lifted & risking failure in the pursuit of laughter & connection.' -  Holly Stoppit 
Holly reminds us that we need to risk failure in order to succeed, and that failures can be learnt from and taken with a pinch of humour. Businesses fail, but things can be learnt, and new innovations can be made. You should never hesitate because of a fear of failure.  
One of the most inspirational talks was from 18-year-old Tegan Vincent-Cooke. Tegan has quadriplegic cerebral palsy, which means her limbs have a variety of different tones and range. One day she may feel stiffness, the next she may be unable to get out of bed.  
People respond to her disability in different ways.  
'One of my favourite things to do is explaining what disability I have to people and seeing the difference in reactions....' - Tegan Vincent-Cooke 
Tegan's talk made us reflect on what it means to use labels. Disabled. Refugee. Migrant. These words make it difficult to see someone as an individual, a nuanced person and ties identity to one single word.  
But Tegan is also a YouTuber, an animator, educational speaker, a champion horse-rider and aspiring Paralympian. Tegan refuses to be defined by her disability, and, like Aisha Thomas, demands that we rethink representation. 
What will we take away?
Hearing so many stories, ideas and innovations can make it difficult to focus on what to take away and change going forward. 
'How do we unpick things that don't work, steady our focus and create positive change in a world of constant flux?' 
Rethinking is unpicking things that don't work, it is focusing on words, narratives and stereotypes that don't work and thinking of new ways to create positive change and disrupt ideas that don't work.