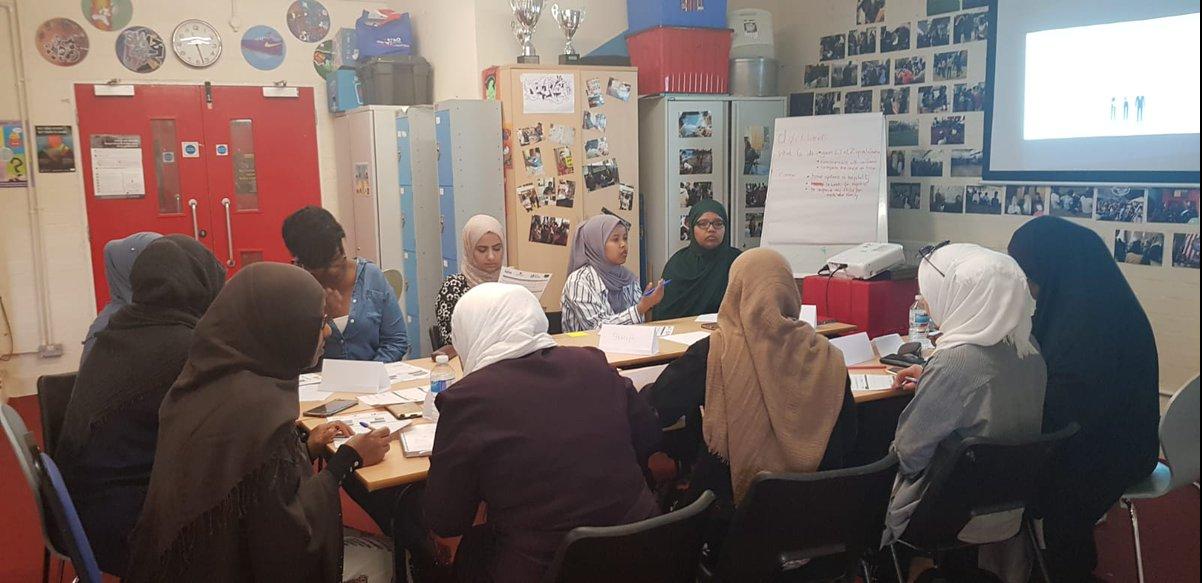 Training Refugees: How We Foster Integration & Community
There are various forms of training available for refugees in the UK. BAME and refugee training programs take place around the country, ranging from English language and life skills to vocational training and job readiness. ACH works alongside training subsidiary Himilo to deliver refugee training courses across Bristol and the West Midlands. We also work directly with employers to source staff from the communities we serve.
Rebuilding confidence 
Refugees arrive in the UK from all sorts of backgrounds. Some come equipped with knowledge and skills, but relatively little English. Others who were less successful back home may feel ready to learn and start over. Most have been through a lot along the way – and understandably, what they lack most is confidence, particularly whilst integrating into a new society.
Our training courses are designed to build, or rebuild, confidence. This is key to successful integration in the UK. As a relatively multicultural city, our Bristol participants are often surprised at how well they get on. Training programs provide an ideal space for people to develop their skills while learning from each other. Our tutors aim not just to impart knowledge, but to facilitate sharing and communication between students. 
English & employability skills
Regardless of their qualifications and work experience, a lot of refugees come to the UK with language barriers. ACH offers IAG Level 2 and Functional Skills English courses, designed to accommodate those with some English already, without setting the level too high. Functional Skills English is designed to offer a basic grounding for life in the UK and provides a good springboard for those looking to get into teaching, training and support assistant roles. 
In addition to Functional Skills English, we also offer Functional Skills IT – both at entry level. A good grounding in both English and IT, or at least an understanding of the terminology in English, can be highly useful when it comes to applying for jobs. 
Working with employers like First West of England, ACH / Himilo runs accredited courses to help participants improve their customer service and interview skills. Our employability skills courses bridge the knowledge gap to help candidates succeed at interview. Running alongside this are our vocational courses in Food Hygiene, IAG Level 2, and Health and Social Care. We aim to offer a breadth of choice, serving refugees as well as BAME and multicultural community members (including UK residents). 
A place to meet people
Our students regularly keep in touch and come back to continue their training. Particularly for those newly arrived in the UK, courses are a great way to meet people as well as to learn new skills. We work diligently to ensure that people are on the right course to meet their needs; it's not unusual for people to end up doing multiple programs. We seek to foster a friendly, supportive environment with room for progression and peer-to-peer learning.
Cultural integration forms a fundamental part of our courses generally. We are constantly looking at new ways to develop and support people better. From celebrating multinational festivals to discussing the day's news, cultural training is inherent and comes from our support team as well. 
From training into employment 
Our goal is to provide our students with the skills and confidence to apply for interviews in the strongest position possible. For instance, some may have the skills to do the job but need some help with the language or niche terminologies. There are many employers who want to work with refugees; it's our job to find out what they're looking for and set their expectations. In the case of First Bus, for example, many of our students can drive, but driving in one country can be very different from driving in another. So it's a case of retraining, not necessarily starting from scratch. 
Further support & careers guidance 
ACH has its own careers guidance team and runs a regular job club twice weekly. Post-training, we often refer people to the job club as a supportive environment to help them find work. Every student is reviewed by their teacher to discuss their plans and where they want to go, whether that's job-seeking or further training opportunities. 
What's more, the job club offers a safe social space for people to connect with others and continue building their confidence. We often see learners coming out of their shells during training only to come to the end of their course, so it's important to facilitate the next steps.
What the future holds 
Feedback is very important to us. ACH conducts monthly training surveys to see what's working and what we could be doing better. Our teachers frequently report that they find the work rewarding as it gives them the opportunity to work with a diverse group of learners, along with the autonomy to support learners' individual needs. It was thanks to their feedback that we made the decision to switch from ESOL classes to Functional Skills English, which made the course much more inclusive. All of our English teachers are ESOL qualified, nonetheless. 
Thanks to a government drive, Functional Skills Maths and English courses are free to anyone not yet up to Level 2. Job centres advise that this is the best way to upskill, particularly for those who do not speak English as their first language. Our method is not just to impart knowledge, but to support progression and integration by delivering innovative, engaging courses. 
At ACH, our mission is to help refugee learners build a strong foundation to rebuild their lives here in the UK, enabling them to meet employer needs and become productive and happy members of their communities. ACH / Himilo coined the hashtag #rethinkingrefugee as a reminder that refugees are far from a scourge on society; they are displaced people with skills and knowledge who want to give back. With the right support and integration, a positive outcome is possible for everybody.