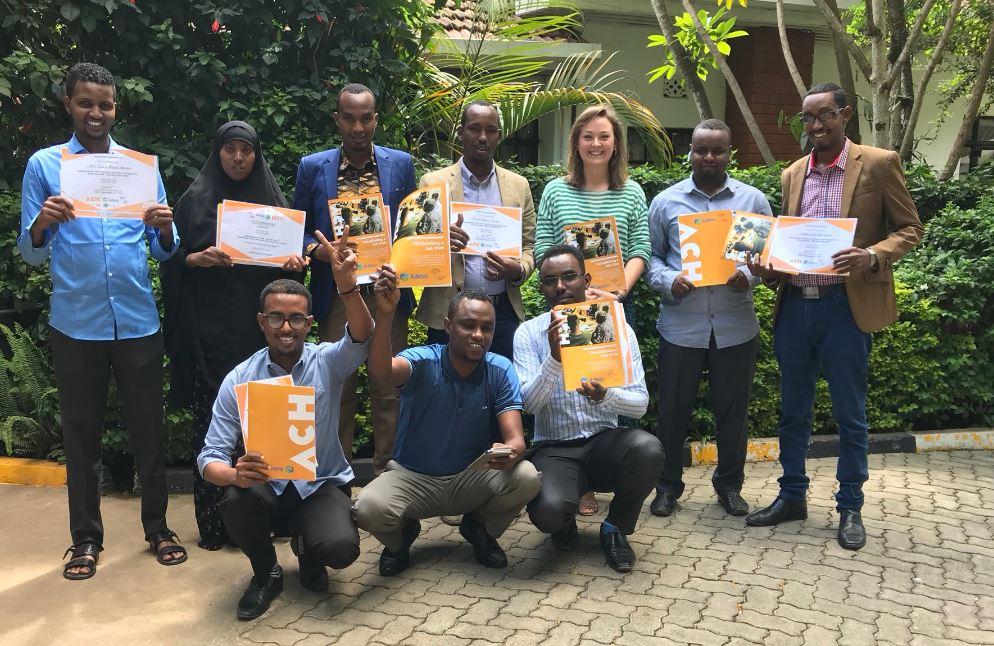 Training the trainer in Nairobi
The Baidoa District Stability, Employment Skills and Entrepreneurship Strengthening Project (BDSESES) project aims to address the employment challenges faced in Baidoa, Somalia by creating a competent and flexible workforce to support the country's economic recovery and growth.
The initial project includes 18 months of activity specifically designed to enhance the stability and the economic development of Baidoa. Research conducted on the ground in August 2018 established the need for a three-tier approached training; TVET (Technical and Vocational Education Training) in construction, tailoring, salon and beautician, carpentry and education, Growth Hub business support, and Job Club service and training.
In November 2018, the project began with a Train the Trainer session in Nairobi, Kenya.
This initial training was to train trainers to set up successful Job Clubs in Baidoa. The participants were all high achieving university graduates, employees from the Ministry of Education and colleagues at our partner organisation Adeso. This specific training week trained 12 participants to be able to work as a Job Club Facilitators and give employment support to individuals.
The week focused on three main areas; logistics of setting up a Job Club, employer engagement and how to support job seeker and training (employability skills, interpersonal skills and careers advice). By the end of the week participants were confident on the concept of a Job Club, had learnt skills and knowledge around employability skills, had grown in confidence and were able to deliver their own workshops.
Within a week of finishing the training 6 participants were offered jobs elsewhere or progressed within their job. From this cohort we plan on hiring 2 Job Club facilitators in Baidoa to run the Job Club service and support 200 individuals into work.
Delivering the training in Nairobi was safe and manageable for both ACH and Adeso staff as well as the participants. From training the individuals it was clear there was a huge lack of fundamental employment skills knowledge, but this project will help to address that. The next stage of the project is establishing a growth hub in Baidoa and the development of business guidance and support infrastructure and information resources.