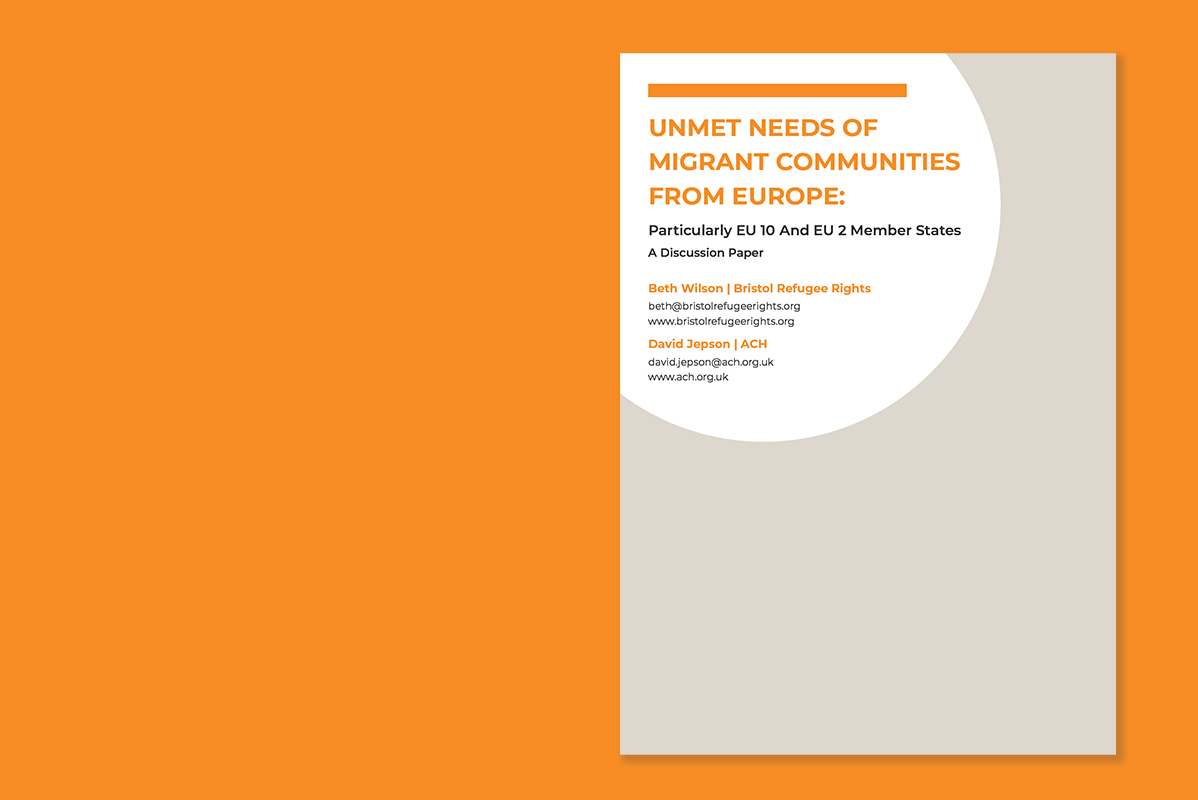 The Unmet Needs of Migrant Communities from Europe: A Report
Whilst the COVID-19 pandemic has hit society as a whole hard, it has disproportionately affected certain groups already more likely to be precariously employed.
We want to highlight the unmet needs of migrant workers from Central and Eastern Europe as a call to action. There desperately needs to be a co-ordinated campaign to include those at risk of being left behind into city-wide support plans and service.
This paper written by David Jepson (ACH) and Beth Wilson (Bristol Refugee Rights) addresses the unmet needs of migrant workers from Central and Eastern Europe. These migrant workers are more likely to enter into precarious work, and sometimes fall through the gaps, missing out on support tailored towards refugee and asylum seeker groups.
Read more to find out about some of the key issues faced and what needs to be done…
We are concerned that migrant workers from Central and Eastern Europe do not have access to the same level of support and advocacy as other groups. We know this is a group that often slips through the gaps, missing out on the support offered to refugees and migrants.
On a practical level, this missed support may in turn result in people not being referred to immigration lawyers, and missing out on information and support that could help them know and access their rights.
Precarious work
One of our big concerns is that many people who've migrated from Eastern and Central Europe are working in occupations below their skill level, with precarious contracts.
'They tend to be young with 70% under 35 and well educated with 60% having a university or college qualification but many working in occupations well below their capability, in sectors such as manufacturing, transport and distribution, office and administrative work, retail, hospitality and leisure and social care.'
We are particularly concerned with the current COVID-19 situation. As the furlough scheme winds down, post-lockdown redundancies will lead to a large increase in unemployment, particularly of those currently engaged in precarious work.
What needs to be done
Support services are currently overstretched, especially as they are feeling the impact of the lockdown and COVID-19 pandemic. This has led to a lack of direct, pro-active promotion of services and support to migrant communities from Central and Eastern Europe.
'there is a wider need to encourage greater engagement from and with these communities within Bristol to ensure greater inclusion and to ensure their voice is heard at community and individual level and needs are met'
We need to work on a city-wide level to acknowledge the immense contribution these groups have made to Bristol, and to the UK. Especially in the upcoming months, during Brexit negotiations, there needs to be a co-ordinated effort from Bristol City Council and stakeholders to make it clear they are welcome to stay.
We need to ensure that people's skills and experiences translate directly into sustainable employment. We need to do this through careers advice, training, accessing employment in growth sectors and through the provision of business support.
We need to support those currently unemployed through proper support, guidance and advice to explore their options and achieve their potential.
One quote to take away…
If you take one thing away from this report, let it be this:
'the main strategic need is for a long term, sustainable and holistic approach to support to ensure better inclusion and integration for those who moved to Bristol from other EU member states to undertake vital work in the city'
Click below to read the full report: