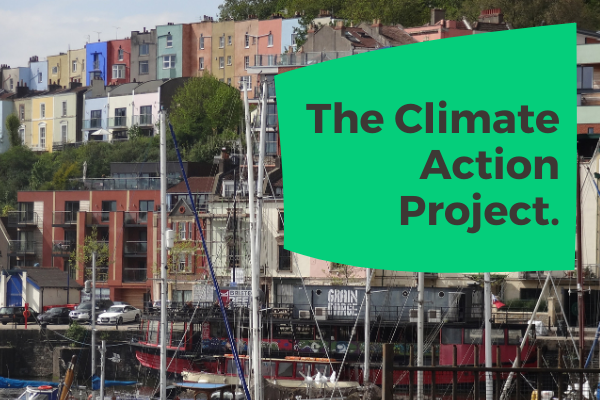 The Climate Action Project: Tackling climate exclusion in 2021
Last year, we were proud to announce that ACH had won joint funding for a changemaking collaborative project from the National Lottery's Climate Action Fund. As this project will now move into the implementation phase in 2021, we thought we would delve into why this project is so crucial and necessary, and what the next steps are for the year ahead.
This year, we're one of six community partners from across Bristol representing different parts of the community in the fight against climate change through the Climate Action Project.
We are passionate about building climate resilience from within our community, and creating space for diverse voices to influence policy and access opportunities within the green economy.
The Climate Action Project is a National Lottery funded collaborative endeavor led by Bristol Green Capital Partnership between Ambition Lawrence Weston, ACH Refugee Integration Services, Bristol Disability Equality Forum, Heart of BS13, Lockleaze Neighbourhood Trust, and Up Our Street.
The Climate Action Project will work to amplify the voices and agency of communities who are often excluded from the conversation around climate action. At the local, city, national, and international scale, not everyone will be affected equally by the effects of climate change and environmental issues. This project aims to address the climate issue within Bristol along intersectional lines, and allow voices to be heard from all corners of the city.
City-level Climate Action
Bristol is a city that is taking action to combat the climate crisis. In the most recent Quality of Life Survey, published in June 2020, 88% of Bristol residents reported concern about climate change.
Marvin Rees, Mayor of Bristol, is committed to making a change in the city, and about working to include all communities in the decision making process:
'The communities we have partnered with on the Bristol bid are where some of the most interesting initiatives are taking place, and we are proud of the many local organisations across the city that are changing our communities for the better. The Climate Action Fund will support these organisations to help us become a more sustainable, resilient city and enable us to remain inclusive whilst becoming carbon neutral by 2030.' – Marvin Rees, Mayor of Bristol
Diversity and deliberation in environmental decision making
This project feeds into a larger issue of inclusion and diversity within climate policy and city-level decision making processes.
As studies show, the groups and communities most affected by environmental and climate issues are the least likely to be listened to or allowed access to spaces of decision making.
As a study conducted in Saint Paul, Minnesota shows, 'the very groups who are most affected by climate change impacts are least likely to be involved in climate adaptation discussions. These communities face critical barriers to involvement including historical disenfranchisement, as well as a sense that climate change is distant and not personally relevant.' – Phadke, Manning and Burlage, 2015
Access and opportunity within the Green Economy
One of the most important facets of this issue for ACH is inclusion and diversity within the Green Economy.
The low carbon and renewable energy sector is growing: turnover in the UK low carbon and renewable energy economy was estimated to be £46.7 billion in 2018 (£40.4 billion in 2015).
This rapid growth and opportunity is not open equally to all, the environment sector continues to be one of the least diverse sectors in the UK. For example, within green engineering jobs, recent research led by the University of Hull has found that, 'It is a fact that 90.7% of engineers are male and only 7.8% are BAME. When considering that women account for 46.9% of the total workforce and BAME individuals account for 12%, there is a clear lack of diversity in the engineering sector'
Next steps
The project is now moving into the implementation phase. This means we will be working to implement real, on the ground actions to find out what the barriers are, what is important to our community and what tailored support and actions they need to engage with the climate debates and take advantage of the Green Economy.
The Climate Action Fund will also engage with other local priorities, such as COVID-19 recovery, health, increased mobility, warmer homes, social inclusion, better access to services, nature and green space, and skills and employment opportunities.  
The project will create a mould for the future, and create a precedent for inclusive city-level discussions and changemaking that engages with everyone.