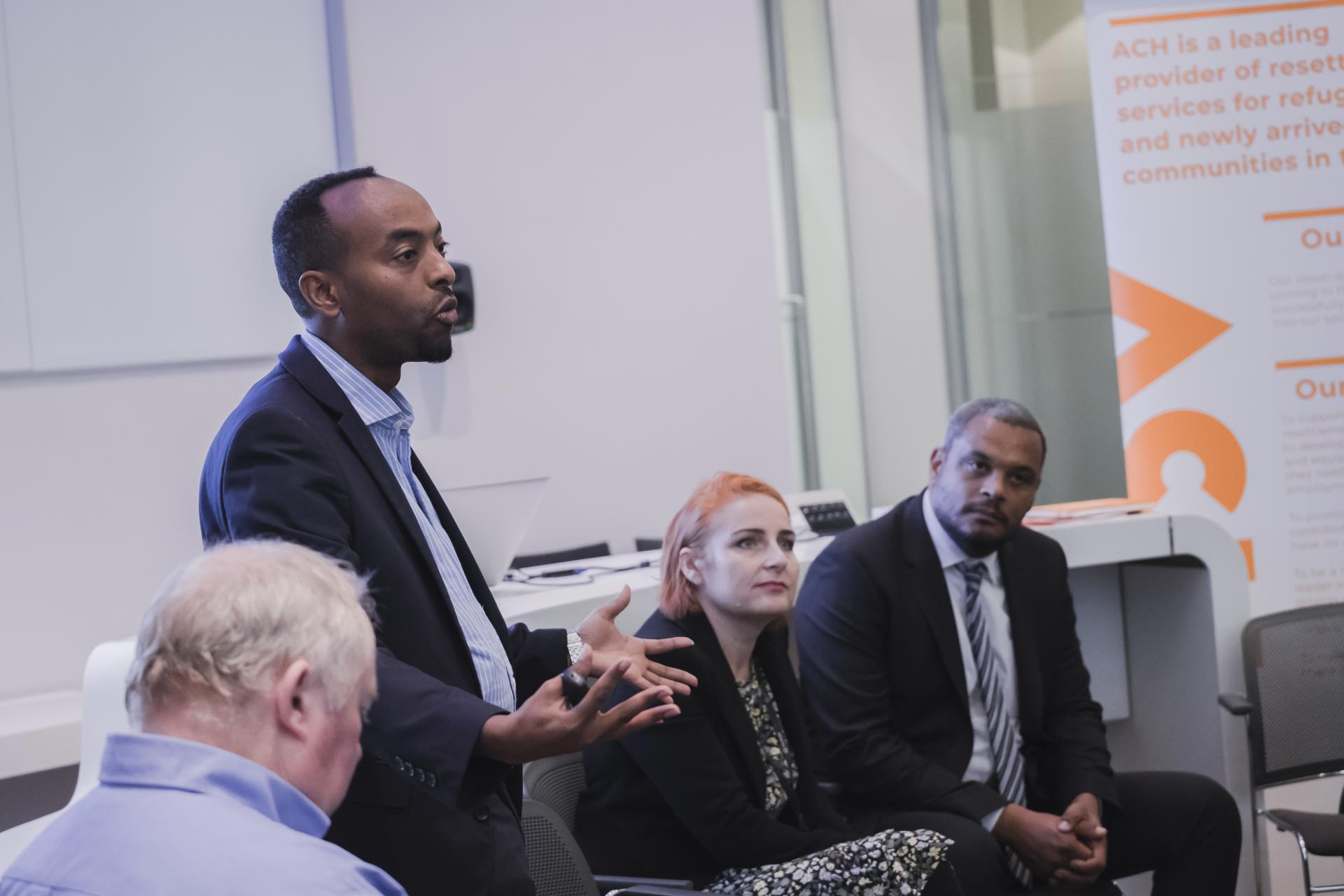 CSR and beyond: Getting refugees into work
It was heartening to see some great organisations attend our roundtable event in Birmingham on 20th September to discuss getting refugees into work.
Our CEO, Fuad Mahamed, started the event by introducing ACH and Himilo and setting the scene for the discussion. For ACH, housing is where it starts. But if we are serious about integration we need to move beyond just housing and look at how we get refugees into work. And with the advent of Brexit, there are skills shortages in the region which need addressing, which the refugee workforce could help address.
"In Birmingham and Wolverhampton we support people who want to work and be active citizens, but how do we enable this?"
Fuad covered our integration model and our existing work with Starbucks and Co-op. Mark Harris, our Regional Business Development Manager, then presented more detail on our business model, highlighting that Himilo works not only with refugees, but also with the wider BAME communities in which we are based. We link employers and communities to identify potential candidates and design training programmes to prepare them for specific roles within businesses.
Dr Julie Nugent, Director of Productivity and Skills at the West Midlands Combined Authority, talked about the need to source skills more widely from the West Midlands' diverse population, and the inclusive growth agenda for the region: "There has been huge investment into the region, but far too many of our communities are being left behind, with unacceptable levels of unemployment." Dr Nugent added that she very much shared the ACH / Himilo approach which sees diversity as an essential for business growth and not just a matter of corporate social responsibility.
The Combined Authority want to connect people with opportunities, and to ensure these are good jobs with good potential, which aligns with our #rethinkingrefugee campaign and aim to work with 25,000 individuals over the next 10 years to get them into median salary roles. Julie urged businesses to consider upskilling existing staff. The skills gaps which will come to a head over the next 5 years can be combatted by using apprenticeships and other training to turn unskilled workers into skilled ones.
Making the most of the diverse populations of the West Midlands is key to this. Professor Monder Ram from the Centre for Research in Ethnic Minority Entrepreneurship (CREME) at Aston University reminded the room that studies show migrants to be more productive and loyal to employers, in the face of productivity issues and skills gaps, migrants undoubtedly present us with a possible solution.
A great example of this in action is great work of Use-It UIA in helping qualified overseas healthcare professionals return to clinical practice. Conrad Parke from Sandwell Council led the discussion on the future of this hugely successful scheme and asked the pertinent question that if the £5k cost of getting someone returned to practice in a £50-60k job is a barrier, surely a loan against future earnings should be possible?
The discussion then turned to getting the private sector more involved in this discussion. Richard Thickpenny, ACH's Business Development Manager, put forward that "the private sector should be praised for their work over the past 40 years with European workers, but we now need to look at how they can replicate this with the refugee population."
The event showed a clear will to engage more with the private sector on this issue, we just need to find the best way to do this. As Lorna Gavin, Head of Diversity, Inclusion & Corporate Responsibility at Gowling WLG, put it: "we need to have a conversation about our key messages to business – how do we get the wider private sector in the room?"
Cllr Kevin Maton, Cabinet member for skills and education in Coventry added "I think this event was really useful to bring different stakeholders together as problems of skills for the future is not going to go away and needs long term investment"
John Wells commented on the event "we would really like to thank Barclays Bank who have let us use their wonderful meeting facilities for this roundtable and reflects a real commitment to the community"
To look at this further we are organising a follow-on event in Birmingham in early 2019. If you are interested in being part of this please contact matthew.rogers@ach.org.uk. 
To find out more about our work with businesses see https://www.ach.org.uk/businesses