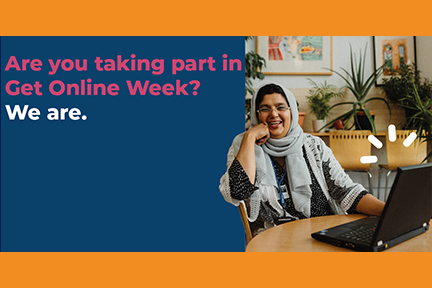 Join ACH's Get Online Week event
The 14

th

-20

th

October will be Get Online Week. Get Online Week is a chance to bring people together to make digital advice and training more inclusive and accessible people in their communities. ACH is joining Get Online Week with our own event on the 15

th

October. Read more to find out about Get Online Week and why we at ACH think digital skills are so valuable.
What is Get Online Week?
Get Online Week is a week-long celebration in October which aims to get more people improving and building their IT knowledge. Digital skills are so integral to our social and professional lives, but many people are lacking these essential tools to navigate life and work.  
In the UK 5.3 million people have never been online and 11.9 million don't have essential digital skills.  
Get Online Week started 12 years ago to bring digital inclusion to national attention in the UK. It was started the Good Things Foundation, and now operates with the support of Lloyds Bank, the Department of Education and Digital Communities Wales.  
In October, during Get Online Week, there will be thousands of events across the country, held in hundreds of communities. The aim of this network of events is to create spaces that are welcoming, friendly to help people take their next steps on their online journey. Learning digital skills is so important for building employability skills, reducing social isolation and improving lives.  
Why is it important to ACH to support inclusive digital training?
At ACH we want to help individuals to progress to mid-level careers with the chance to progress in their careers. Having essential digital skills is so essential to succeed in your job. We are passionate about promoting and delivering the digital skills training indispensable to career advancement and building social networks. 
Digital skills open doors.  
With great IT knowledge, it is possible for people to start their own businesses, build websites and promote their ideas. With our Entrepreneurial Outreach Project, ACH is working with partners to facilitate refugee entrepreneurship. IT skills are vital for anyone with ambitions to open a business, from social media and website building to finances. 
Even for daily life online skills are so important. From booking GP appointments to online banking, having digital skills and the ability to get online makes life so much easier.  
What is our Get Online event?
We are getting involved with Get Online Week and holding our own event!  
It will take place on the 15th October at 2-4pm at the ACH Training Centre: Bristol Training Centre, Unit 1, Ashley Court, Ashley Road, St. Paul's, Bristol, BS6 5NW.
The event will be a friendly and welcoming community event for anyone who wants to get advice and help with their digital skills. Joining us at this event will be two Lloyds Digital Champions, Gareth and Mohit and the VIP will be Steve Webb.