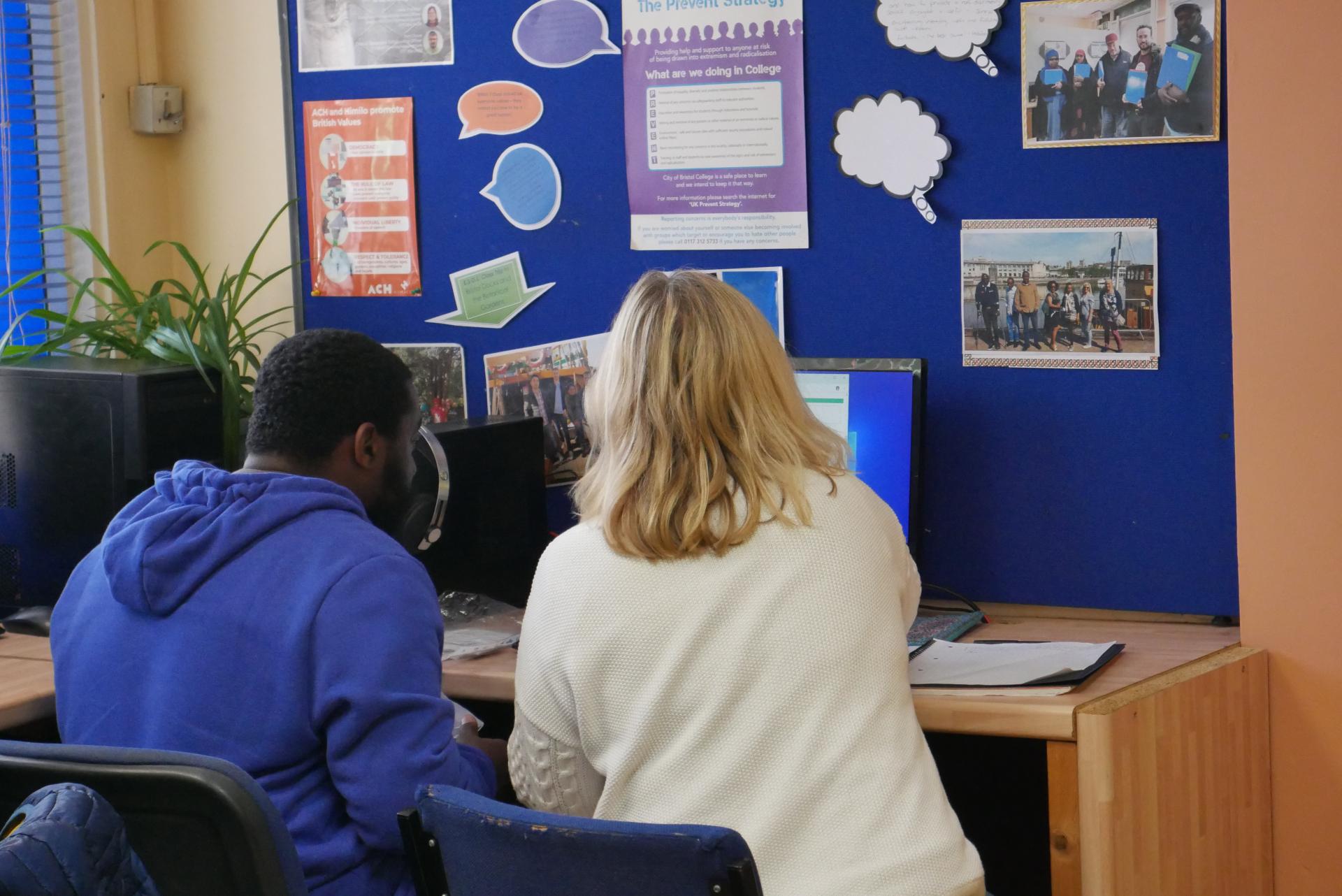 ACH celebrates Get Online Week
We want to talk to you about our recent Get Online Week Event... 
When ACH won funding to put on a special VIP event to celebrate Get Online Week, we thought: what can we do? What sort of event should we plan?  
We realised that rather than create a whole new idea for an event, we should celebrate and show off the work we already do to support refugees and the wider community with their IT skills.  
This is when we had a stroke of inspiration and decided to hold the event at one of our twice-weekly Job Clubs. 
What is Job Club? 
Job Club has been running for 8 years and it's a mainstay of ACH's work and the local community.  
Twice a week at our St Pauls Training Centre, our Tutor Jack and ACH volunteers welcome refugees and people from the wider community and help them to apply for jobs. 
The Job Club team help people apply for jobs by sitting down with them at a computer and working with them to find jobs on the internet, write up their CV's and practice interview questions. This way, we can get to know people and their aspirations for the future. 
It is one of our guiding principles at ACH that we help people as individuals. Everyone is different and has a different story. It matters to us that refugees and people from the wider community get meaningful employment support tailored to their own story. We hope this will result in career opportunities where they can learn, grow and progress.  
We know how important IT skills are in the world of work, and we are passionate about Get Online Week because we share their mission to find the best ways of providing inclusive digital support in local communities.  
Get Online Week – What does that involve?  
Get Online Week is an initiative run by the Good Things Foundation and sponsored by Lloyds Bank, the Department of Education and Digital Communities Wales.  
This awareness week was started 12 years ago as a reaction to an inequality in access to IT skill support. Although things have improved since then, right now 5.3 million people in the UK have never been online and 11.9 million lack essential digital skills for daily life. 
Get Online Week ran from the 14th-20th October, and there were thousands of events to celebrate all across the country, held in hundreds of communities. This national network of events aimed to create welcoming and friendly spaces that would help people take the next steps along their online journey.  
Getting online is so important because it means access to so many things including: finding a job, staying on top of your finances, connecting with the people you love no matter where they are in world and the ability to find health advice and support. 
Job Club and Get Online Week together? 
After getting the Training Centre ready to welcome a bigger number of people, we also made sure to warm up the entourage by filling the cups with tea and coffee and inviting everyone to have some pastries.  
Soon to arrive were representatives from The Good Things Foundation and Lloyds Bank. Our VIP guest was Steve Webb: Product Owner and Engineering Lead, Data Management Services Lab and Enterprise Data at Lloyds Banking Group.  
Over a cup of tea, we talked to our guests about the work we do to support refugees and the wider community with their job applications online and showed them around our training centre. 
We explained that the way our digital support is inclusive is through one-to-one support and conversations that have enough time to make an impact. Commonly IT support is delivered through workshops and presentations, but often this is not the best way to help someone with a practical task. During Job Club our careers support is also IT support as we help individuals to get online for the purpose of job applications, working together to build IT confidence alongside career confidence.  
During the two-hour long event, our guests had many questions for us about the work of ACH and Himilo and from these questions we had meaningful conversations about social enterprise, how businesses like Lloyds can offer community IT support and what more can be done! 
What meaningful conversations did we have? 
As our guests from The Good Things Foundation and Lloyds Bank had a lot of questions for us during the event, we thought we would write some of them down in case other people also had the same questions: 
How do people find out about Job Club? 
People can find out about our twice weekly Job Club though in lots of different ways. Our support team, housing team and careers team work together to provide holistic support for our tenants and people in the wider community. Job Club has been around for 8 years now, and word has got around! We also work hard to promote it to new service users through leaflets and social media. It is also the people who have used job club to successfully get jobs that recommend and advise the people they know to come to us for help and support! 
Is everyone at Job Club an ACH tenant? 
Contrary to a common misconception, not everyone at Job Club is an ACH tenant. We work to provide an inclusive and welcoming space for people in the wider community as well as ACH tenants to visit us for one-to-one help and support with one of our training staff, careers team or volunteers.  
How do you help people with their IT skills? Do you have training courses? 
We help people with their IT in all sorts of ways. During Job Club at our St Pauls Training Centre, we help people in a friendly and informal manner with their online skills during their job application process. This is a fantastic opportunity to get people confident using the internet through the practical activity of applying for jobs. We also run IT training courses such as Functional Skills in Information Communication Technology to teach online skills such as: navigating the internet safely, setting up and sending emails and online security. 
Why is ACH a social enterprise rather than a charity? 
ACH is a social enterprise for several different reasons. We believe that as a social enterprise we can provide the best service possible for our clients, and make sure we are sustainable and able to continue to provide a service with a high standard. Also, we do not take a humanitarian approach to our work with refugees. The word charity has power relations attached to it, and we do not give out charity. Rather, we provide a high-quality service that is community-focused, friendly and of a high-standard.