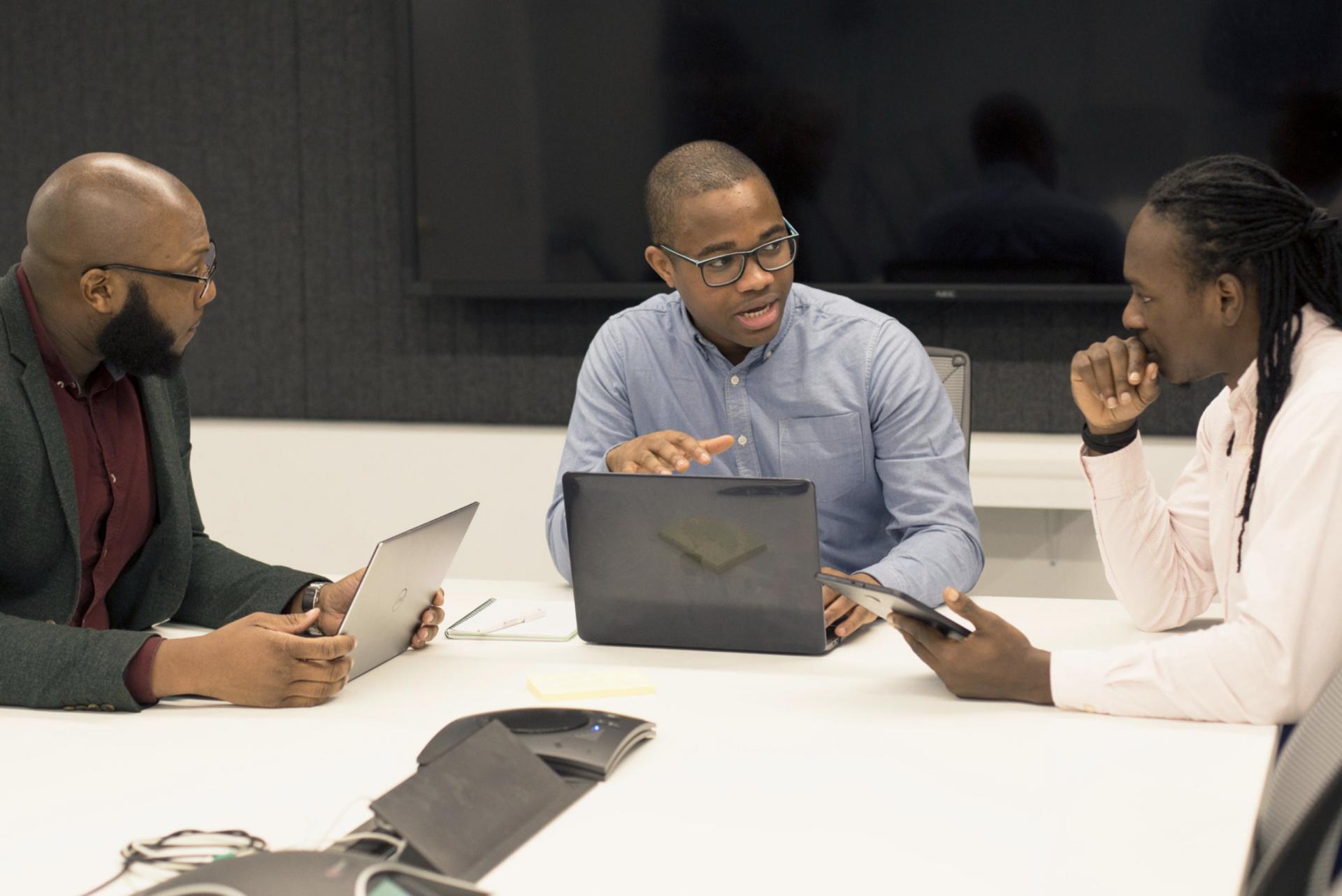 Refugee Entrepreneurship: Overcoming the Odds
Entrepreneurship offers a route to independence. Experience has shown that refugee entrepreneurs make terrific community leaders, despite considerable hardships. In the face of language barriers, culture shock and funding complications, refugees are going above and beyond to found their own startups and businesses.
Find out about our refugee and BAME recruitment programs and apprenticeships.
What makes a refugee entrepreneur?
Refugees are forced to leave everything behind when they flee their homes – but one thing that cannot be taken away is their collective knowledge. They bring a wealth of intellectual capital to their new communities; many were entrepreneurs or business owners to start with.
Access to information is key and remains the biggest barrier to confidence. While business incubators have their place, many find them restrictive. Refugee and BAME entrepreneurs often feel excluded from mainstream business support – something ACH is working to counteract.
Supporting refugee entrepreneurs around the world may become a niche agenda for the G20.
Entrepreneurship in refugee camps
Long-term refugee camps have been described as an 'institutional void' by the University of Cambridge. These camps are established for short-term emergency use, and yet for many, displacement is often drawn out for much longer periods of time. Social entrepreneurship initiatives could offer a solution.
Ultimately, the goal is to cut down refugees' dependency on foreign aid and help them on their way to more sustainable, independent lives. Financial aid programs and microfinance lenders can grant seed capital to refugee camp endeavours, empowering female entrepreneurs in particular.
In 2016, Syrian entrepreneur Abu Mahmood opened a pizza shop in Jordan's Zaatari refugee camp, naming it the Pizzeria of Peace. In the same year, Mohammed Osman Ali, a refugee in Uganda fleeing the war in Somalia, built a video game arcade business out of old technology. And they're not the only ones.
Famous refugee entrepreneurs & business owners
Let's take a look at some of the world's best-known refugee entrepreneurs and business owners who overcame the odds to create successful, independent lives.
Razan Alsous — Yorkshire Dama Cheese
Razan came to the UK with her husband and three young children after the war in Syria in 2012. They lost almost everything and had to settle into a new life in Yorkshire. Unable to find a job without references and work history in the UK, Razan turned her microbiological background to cheese-making, funding her business with a small startup loan from the local Enterprise Agency.
Today, Yorkshire Dama Cheese has a loyal customer base and has earned multiple awards, including Best Cheese in Yorkshire and The World Cheese Award Gold Prize.
Laxmishanker Pathak — Patak's
Back in the 1940s, Laxmishanker Pathak and his family were driven by grinding poverty and colonial authorities from their village in India, first to Kenya, and subsequently to London. They arrived with six children and little more than £5 to their names.
Laxmishanker was offered a job sweeping the streets, but it was barely enough to feed the family. He started selling Indian food on the streets, renting a basement flat in Kentish Town. Word spread – within a few years, the family was supplying sweets, snacks and Indian food not only to London's Indian community, but also to a growing number of restaurants and supermarkets nationally.
Today, their culinary legacy remains as strong as ever, with the company controlling more than a quarter of Britain's Indian food industry.
Edin Basic — Firezza
After growing up in Mostar, Edin was studying civil engineering and had his future mapped out – until the war in 1992. He left to start a new life in London, washing dishes in an Italian restaurant.
Thanks to his ambition and drive, Edin quickly climbed the ranks and became head chef. In 2001, he channeled his experience into starting his own business – and Firezza was born. The goal: to create the best pizza in the world.
Firezza was acquired by Pizza Express in February 2016; Edin is now managing the opening of 113 Firezza sites nationally.
Robert Rajeswaran — GoCode Academy
Robert was a child refugee from the war-torn island of Sri Lanka. After graduating in accountancy and starting his career in investment banking, he shifted to financial technology and founded GoCode Academy as part of RBS's Entrepreneurial Spark program. He was named FSB Worldpay Young Entrepreneur of the Year in 2017.
GoCode Academy provides fun, educational coding classes for kids, including online courses, after-school clubs and holiday camps. It also offers scholarships to disadvantaged students and girls who want to code.
Harnessing refugees' entrepreneurial talent
Refugees are not just victims: they're innovators. Among them, former entrepreneurs and business owners whose contributions have value in our society. Refugees bring fresh perspectives and a dedicated work ethic. They've already overcome considerable odds to be where they are today. It's our responsibility to give them every opportunity to rebuild their lives and careers – and in doing so, the rewards are there for everyone.
Competing in a 21st-century economy means making the most of our people, which includes supporting new citizens who are starting businesses. Only a backward society turns away intelligent, resilient people with good ideas. Our goal is to make sure everyone feels welcome and included, and beyond that, ensuring that policies and support systems are in place to help refugees integrate with their communities and take their business ideas to the next level.
------------------------------------------
Image courtesy of UKBlackTech