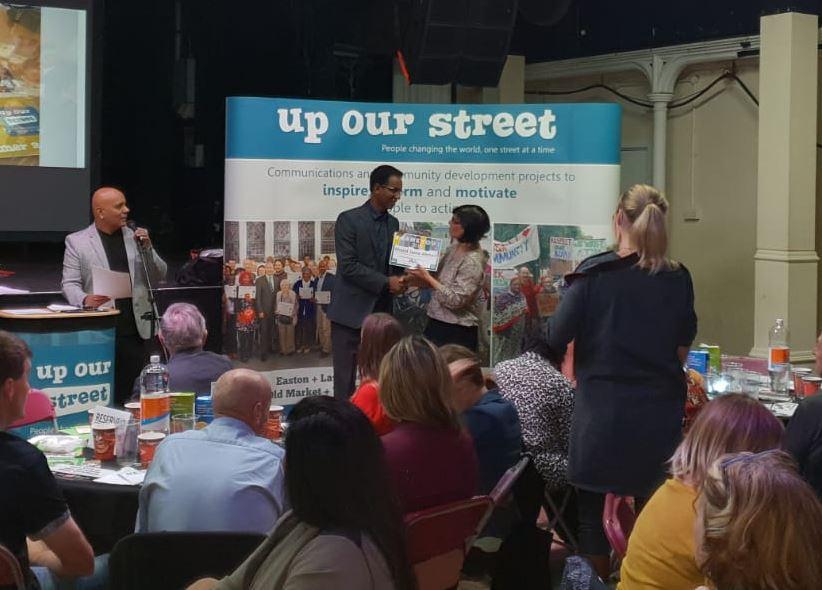 Every year Up Our Street holds our Thank You Awards dinner and awards ceremony to celebrate the local people and businesses who go above and beyond to make Easton and Lawrence Hill a great place to live, work and visit.
The 8th annual Thank You Awards were held at the Trinity Centre on 18 October and attended by local residents, community organisations, business leaders and Councillors. Local MP Thangam Debbonaire presented the awards during an evening hosted by Patrick Hart and Sherrie Eugene Hart.
And this year ACH's very own Abdi Mohamed and Khalid Ahmed were recognised for their contributions to the area.
Abdi received a Thank You Award for his tireless work kick-starting young peoples' careers, advocating for stronger political engagement and encouraging people to question the social injustice around them. 
On receiving his award Abdi said "Pleased to be among those who received Thank You Awards. Recognising the work of local people is encouraging, but contributing to the success of local communities and society is a civic duty."
Khalid received a Thank You Award for his role in the publication of Kobciye Magazine, Bristol's first bilingual Somali & English magazine.
On receiving his award Khalid said:  "I am pleased and honoured to receive the award tonight. Thank you Up Our Street for this award in my hand, it makes me feel great on being rewarded for publishing the first ever Somali and English bilingual magazine in Bristol."