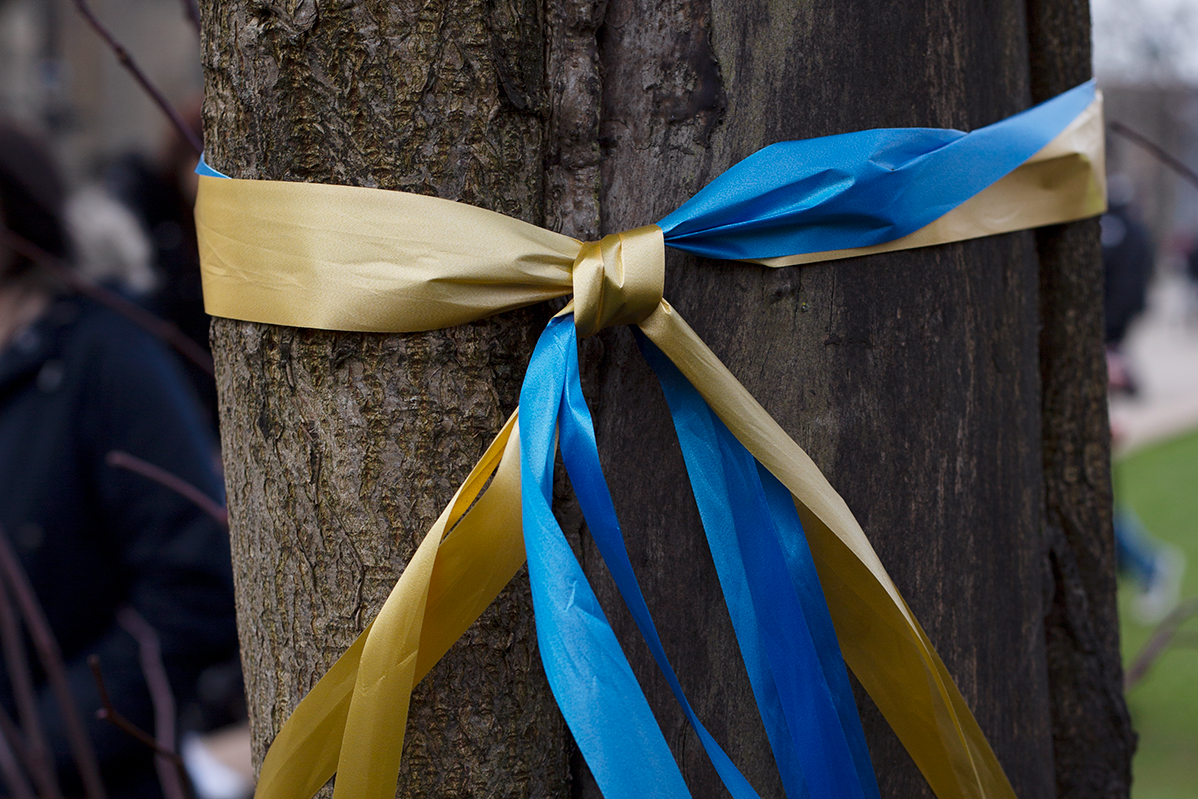 The Ukrainian crisis and the challenges for resettlement
On the 7th April 2022, ACH held a roundtable discussion to examine how the refugee support sector can effectively respond to the shocking situation in Ukraine, and how to make the UK's Homes for Ukraine Scheme a success for those fleeing the conflict.
This work follows ACH's commitment to help those fleeing the crisis integrate successfully into UK society, and lead self-sufficient and ambitious lives.
Keep reading to find out more…
ACH stands in solidarity with the people of Ukraine. We are committed to doing all we can to help those in need of sanctuary thrive in the UK.
The government's Homes for Ukraine scheme was announced on the 13th March, and has since welcomed 1,200 people to the UK. ACH is dedicated to making the Homes for Ukraine Scheme a success for individuals and families arriving in the UK in search of freedom from violence and persecution.
We held this roundtable discussion to bring together Ukrainian academics and non-profit professionals, local authorities and refugee support organisations working in the UK, and law professionals working in the field of immigration law in the UK.
We heard from:
Navjot Johal, Programme Manager, Migration Team, Coventry City Council

Colin Yeo, leading barrister and campaigner with expertise in migration law

Fuad Mahamed, CEO of ACH

Mariia Tyshchenko from University of Kyiv and Poruch, an NGO working with displaced people.

Olia Voropay, from Poruch, an NGO working with displaced people.

Anna Mielczarek-Żejmo, University of Zielona Góra.
The situation in Ukraine
The first speaker we heard from was Olia Voropay, who spoke to us as a representative from Poruch, an NGO working with displaced people in Ukraine. Olia prefaced our discussions by giving us a first hand account of the situation on the ground, speaking to us from Western Ukraine. Olia explained why the need for safe, emergency routes to safety is so crucial:
'Since conflict erupted on 24 February 2022, the number of civilian casualties in Ukraine has reached 3,527 – including 1,430 killed – according to the Office of the United Nations High Commissioner for Human Rights (OHCHR 3 April), and with numbers likely to be higher.' – Olia Voropay
Olia then went on to explain that the extensive damage to infrastructure in Ukraine indicates that this conflict will have a long-term impact on displacement, even if the conflict were to end tomorrow. For example, in the city of Mariupol:
'Approximately 90% of the city's housing stock has been affected by ongoing hostilities, with nearly 40% estimated to be damaged beyond repair (OCHA 28/03/2022). The city has been under shelling and encircled for weeks and the residents have severe humanitarian needs, with scarce electricity, heating and water supply'
The tragic consequences of this conflict means that many Ukrainians will not have homes to return to, even if peace prevails. Therefore, we must make sure long-term solutions are in place for people displaced by the conflict in the UK and elsewhere.
The impact of displacement
As of 14th April 2022, the war in Ukraine had displaced 7.3 million people internally within Ukraine and 4.73 million refugees had fled Ukraine (IOM, 2022). This has had an unimaginable effect on people's lives and has sparked an international response to help refugees fleeing the conflict.  
Anna Mielczarek-Żejmo, University of Zielona Góra, also joined our discussions, in order to illustrate the response in Poland, as the country has been supporting displaced people.
'While waiting for the necessary system changes, help and support for Ukrainians coming to Poland are organized by citizens, NGOs and local communities. Euphoria and spontaneous impulses from the beginning of the war were replaced by more thoughtful actions, better suited to the needs of the new inhabitants of the country. Poles provide Ukrainians with emergency aid - after crossing the border, and then support them in finding their own place in various parts of the country. They take refugees into their homes, rent flats and hotel rooms, and adapt sports facilities.' - Anna Mielczarek-Żejmo, University of Zielona Góra
Anna illustrated the incredible efforts of local communities and organisations to provide sanctuary for displaced people in nearby safe countries.
The Homes for Ukraine Scheme
The need for an effective and generous scheme to help people seek sanctuary in the UK is poignantly clear.
Colin Yeo is a leading barrister and an expert in the field of migration law. Colin joined our discussion to give his perspective on the Homes for Ukraine scheme. For Colin, although the Homes for Ukraine Scheme harnesses the love and goodwill of the British people, it does not go far enough to offer routes to escape conflict.
'What we're doing clearly isn't enough…We need to do our bit to accommodate as many as want to come here' – Colin Yeo
This comes after the scheme has faced criticism for it's limited scope, offering sanctuary only to Ukrainian refugees, rather than those seeking sanctuary from conflict and persecution in other areas of the world.
At ACH we believe that safe and legal routes should be accessible to all people fleeing violence, persecution and war, and that the UK should uphold its commitment to the 1951 UN Refugee Convention.
Making the Homes for Ukraine Scheme a success
It is therefore our commitment to make Homes for Ukraine a success for the people who arrive through the scheme. Navjot Johal, Programme Manager on Coventry City Council's Migration Team joined us to discuss how Coventry City Council plans to help those arriving on the scheme successfully integrate and build new lives in the city.
Navjot described how Coventry City Council were committed to 'making sure support is available to everyone' arriving through the scheme, including: welfare checks and support for new arrivals, extending visas for Ukrainian nationals already in the city, partnering with the Ukrainian Association in Coventry to provide befriending services, working with schools and colleges to provide vital education services and making the safeguarding of women and children a key priority.
Similarly, Fuad Mahamed, CEO of ACH, discussed the pressing need for personalised, intensive integration support for people arriving from Ukraine. Fuad also spoke about the opportunities for Ukrainians arriving to the UK, saying 'the people who are coming here are really skilled, and there are substantial gaps in the labour market post-Brexit'.
At ACH, we will be providing support to Ukrainians on the Homes for Ukraine scheme in South Gloucestershire, providing 1-to-1 tailored integration support, helping people with a variety of specific needs from: accessing health services (physical and mental), help with immigration advice, careers advice and education and training advice and guidance.
Negative stereotypes and broken systems in the UK mean that 75% of refugees and migrants have no opportunities beyond low-paid, entry-level employment. Fuad discussed how ACH aims to redefine, recentre and rebuild this process to end the cycle of poverty.
A bright future
One crucial theme to our discussions was how to ensure Ukrainians arriving to the UK are provided the opportunities to reach a bright future.
Mariia Tyshchenko from University of Kyiv and Poruch, an NGO working with displaced people, spoke to us about how Ukrainians arriving to the UK should be seen as the assets they are.
For Mariia, it is crucially important organisations and local authorities working with Ukrainian refugees work to challenge and 'overcome stereotypes about the inability of migrants to go beyond low-paid entry-level work and provide access to education and training in accordance with their abilities and experience.' (Mariia Tyshchenko).
The people arriving to the UK have skills, professions and business experience that will be an invaluable asset to our society and economy.