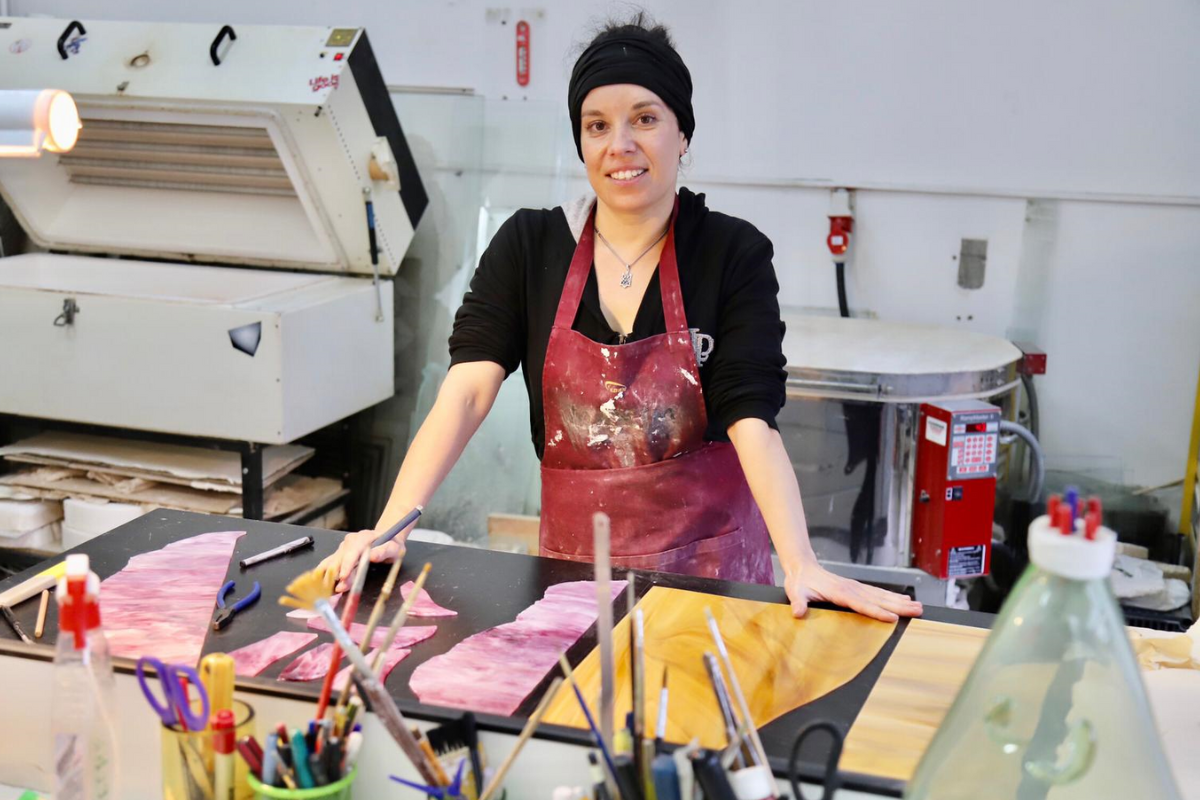 Business Spotlight: The Inspiring Journey of Christina and 'Garmasiyglass'
ACH has been playing a pivotal role in supporting refugees and migrants to turn their entrepreneurial dreams into reality. One such inspiring success story is that of Christina, a Ukrainian migrant who arrived in Bristol in 2018.

Keep reading to find out more about Christina...
Christina had worked various jobs around Bristol but always wanted to find a job relating to her trained vocation – glass work. Despite running her own business and showcasing her art, Christina faced challenges identifying suitable channels for selling her work and building connections in a new country.
Discovering ACH's Support
Christina's journey with ACH began in November 2022,  after attending our VOICES Christmas Workshop (funded by the Global Goals Centre) at the Galleries. Fellow client Svitlana Trygub ran a workshop creating decorative gingerbread men. Then, she became intrigued by the organisation's support, and Christina decided to explore it further. Her introduction to ACH came from fellow country nationals, a connection that would lead her to a world of opportunity.
Embarking on a Creative Path
Inspired by Svitlana, Christina decided to take the plunge and lead a workshop of her own for the first time, showcasing her glass artistry. She was nervous but found the experience to be very rewarding.
Since then, Christina has been encouraged to trade in new markets, including the Tobacco Factory and Bristol Old Vic Market. She has connected with other entrepreneurs also being supported by ACH and now has a network of business owners in her circle. She has engaged in various galleries, featuring at the Royal West of England Academy and VASW – Centre Space Gallery.
 
The Diverse Ventures of 'Garmasiyglass'
Christina's business, named 'Garmasiyglass,' encapsulates her journey as an artist and entrepreneur. She divides her business into three distinct directions. The first involves creating stunning glass jewellery using various techniques to sell at markets. The second direction involves crafting artworks for exhibitions in Bristol and beyond. Lastly, Christina conducts workshops for children and adults, aiming to share her artistic knowledge and empower others through creativity.
Overcoming Challenges
The path to entrepreneurship is rarely without challenges, and Christina's journey was no exception. She found herself facing numerous hurdles, especially as a newcomer to both the business world and the English culture. Initially, she volunteered with Bristol Blue Glass to gain exposure to English glass-blowing traditions, but her job search proved unfruitful. Frustration and uncertainty followed, pushing Christina to consider establishing her studio. Christina continues to look for work in this area.
 
Turning Dreams into Reality
Through the ACH's business advisors' support, she not only found a community of fellow artisans and entrepreneurs but also honed her English skills, a crucial factor in establishing herself in Bristol. ACH's workshops opened doors to new friendships, shared experiences, and the practical skills needed to thrive as a business owner.
Now…
Now Christina makes a glass art jewellery, 'Garmasiyglass', organises workshops at Sparks, Broadmead, and she is a shining example of how ACH's assistance can enable individuals to overcome challenges, explore their interests, and build thriving businesses, thus contributing to the cultural and economic growth of their adopted communities.

Discover her latest designs and be the first to know about upcoming markets and workshops by following her Instagram account.
 
Thinking about setting up your own business?
ACH offers free personalised support with the launch or growth of your business. Contact us to find out more or visit our webpage.
Email: business.support@ach.org.uk