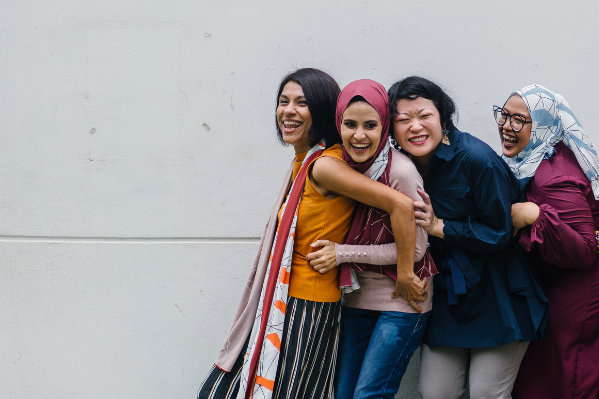 International Women's Day 2021: A spotlight on women's health and migration
March 8th is International Women's Day. Although the majority of forced migrants in the UK are men, some women join their families through the Family Reunion Programme or become displaced alone. Women's health is often overlooked as part of the refugee experience, but it is affected both positively and negatively, and influenced by successful integration.
Read more to find out about how we can improve newly arrived women's access to health and education...
When women arrive in the UK, they can have little knowledge of what healthcare is available, and even how the healthcare system differs from their home country. In some countries, there is limited health education available and women may have little autonomy over their health and choices. As they arrive and especially as they become more settled, the women will potentially have more education and healthcare available to them than ever, as long as they have the right support to access. However, as female forced migrants are marginalised, as they are discriminated against as both women and migrants, it can be difficult getting that accessibility right.
A 2017 study suggests that many female forced migrants  (including Somali, Sudanese and Afghan)  were unaware of sexual and reproductive health practices, such as cervical screening, and had low levels of understanding of sexual and reproductive health issues, such as periods. This is due to cultural taboos and minimal health education in home countries. This means these women are more vulnerable to sexual and reproductive health difficulties, and may be less able to talk about them when they occur. Delayed sexual health screenings can lead to complications, which have ripple effects. For example, delays to cervical smears can lead to cancer that is easily prevented by early intervention, and lack of access to contraception can lead to unwanted pregnancy.
Women are more affected by displacement due to war and human trafficking. Poor sanitary conditions and medical services at refugee camps can make women's health worse. Those who have come from war zones may have neglected their health for years, and many develop other related health issues. Also, rape is a prominent tool of war and this has further negative physical and mental health implication for these women.
Many of the women have had traumatic experiences that have affected their relationship with their health. Female Genital Mutilation (FGM) is commonly practised in numerous forced migrants' home countries. This can cause women constant bladder issues, pelvic pain, period problems, ectopic pregnancies and miscarriages. Women who arrive in the UK from the family reunion process often become pregnant quickly. This could be due to wanting to start a family in the UK, not having access to contraception or a lack of health education. However, a significant amount of women miscarry, which is another traumatic event for women who have been through considerable events. These women are not always able to access the support around this, due to taboos, language barriers and lack of awareness of services.
It is time that more high quality, culturally safe health education is implemented and made accessible for these women. Translated leaflets, women's groups and the dissemination of knowledge through communities is invaluable to improve health outcomes, break down cultural barriers and for early intervention of treatable conditions. A person-centred, trauma-informed approach from healthcare services would help women attend, as well as specialist services, such as the Rose Clinic, a clinic providing care and support for those who have experienced FGM. At the  Rose Clinic, the women know that the staff there understand the cultural context and specific FGM issues. Health providers need specific training about the health conditions forced female migrants could experience. If accessibility is improved in this way, with empowerment of the women to use them, the women could end up with better health outcomes than their home countries. This is due to free healthcare in the UK, and the availability of screening, which is limited in some other countries.
If integration happens well, with learning the language, being active in the community, and having jobs, women are more likely to seek help around their health. Support workers can fill in this gap, by providing health education, running support groups, and providing health advocacy where appropriate. The most pressing is to encourage the empowerment of access through education, respecting the individual rights and experiences of forced female migrants, and develop and implement policies that maintain this.
Luckily, services are working hard to empower women in Bristol. Alongside The Rose Clinic, Project Mama offers free, culturally tailored holistic support to displaced women through pregnancy, labour and childbirth. They bridge the divide by addressing access to the NHS, language barriers and social isolation. ACH works closely with forward thinking organisations, such as Project Mama, to ensure women receive the tailored care they deserve.
Further reading:
Health and Migration » AN OVERVIEW OF MIGRANT WOMEN'S EXPERIENCES OF PERINATAL CARE SERVICES IN EUROPE
"In My Culture, We Don't Know Anything About That": Sexual and Reproductive Health of Migrant and Refugee Women | SpringerLink
Migration and women's health - PubMed (nih.gov)