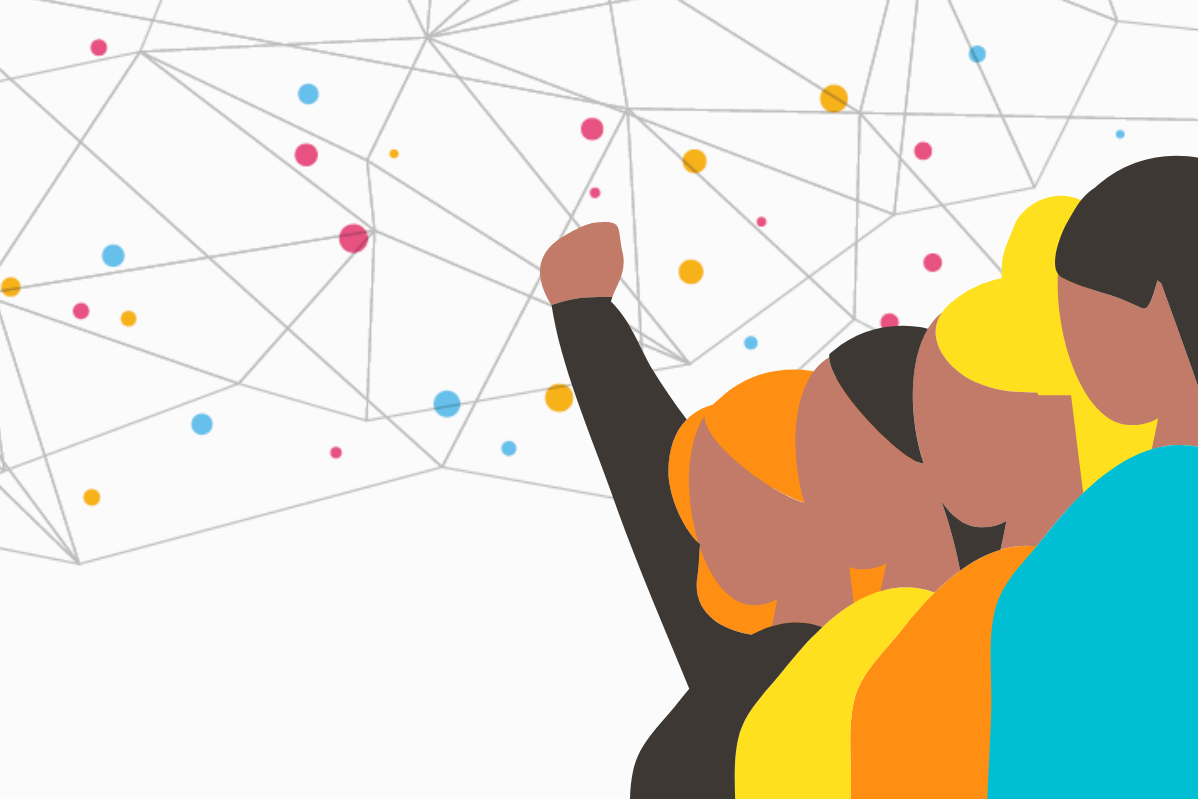 International Women's Day 2022: Neelam's thoughts
This International Women's Day, we are privileged to hear from an inspirational woman, as the wonderful Neelam has written her thoughts for us. Neelam is a writer, presenter and activist from Afghanistan, who has recently arrived in the UK. 
Neelam is currently being supported by ACH through the MBS project, and is a participant on our Ujima Radio Project, where we will be working with refugee and migrant communities to produce a community radio programme in Bristol.
Keep reading to find out Neelam's thoughts this International Women's Day...
This piece has been translated into English from Dari, to read the original, please click here.
Have You Heard the Silent Screams?
All women have been created free. This is equally true about women in the east and the western world, we all deserve the freedom to breath and live free!
There is no difference between women in the east and the west. They may experience different life situations, but they have a common pain. Women in the west perhaps have the freedom to raise their voice and talk about their pain, which is the same as those in the east. But in my homeland, women have silent screams that no one ever hears, where there is no sympathetic ear. If their voices could be released, they would turn to a fire that would enflame themselves first, and then will enlighten their buried thoughts.
In my mind, International Women's Day is a day to celebrate and remember the strong voice of women who have started the fire of enlightenment and realised their true identity. International Women's day is a day for raising the voice of right against the wrong, a day for all passionate women warriors, even if they suffer from their old wounds, to rise and ask for their human rights and freedom. You must stand up for your rights. No one will grant you your rights without your own exertions.
International Women's Day is a day for enlightenment, for awakening humankind and for wise women to shine.
Women who know their identity believe in themselves. This is the day you must understand them and know that family, society, and life are not completed without women.
Women are mothers, sisters, and honest wives.
To support your education, career, and honor, they would run barefoot on the soil and fire in plains and deserts.
Did you forget the women who struggle with poverty and work in scorching weather on the farms for your convenience?
From dawn to dusk, they suffer intensely.
You, the one who attacks birthing centers, murders mothers during delivery and makes their children orphans, weren't you the children of women who gave birth to you in the hot plains, the deserts, or the mountains and hoped you would be educated and build hospitals? So the next generation could leave the harsh days behind and be born in well-equipped hospitals? They didn't expect you to make children orphans a few seconds after they are born and shoot their feet even before they could step on the ground.
Women are always next to men and are partners for good days and bad days and they are ready to pass the deserts barefoot.
Women are strong, and can not only fight for their rights, but also defend the rights of men and children.
Women know how to make their husbands smile.
Women are sisters and love their brothers.
Women are history and create history. How could someone desire to hide, with two fingers, these shining suns who have been created for enlightenment and describe them with disgraceful words like mental defective, black head (inauspicious), and disabled.
The ones who torture women, divorce them by force, marry them by force, and rape them, could accept the dignity of this creature?
Isn't International Women's Day the day for breaking the laws that they made against women? Laws that facilitate the exchange of women, the giving of women to compensate a crime of a family member (baad), inheriting women, omitting women's names, and eliminating women's identity.
Maybe many of them claim that the root of their compound ignorance is the Quran, but the Quran is miles away from these evil thoughts. There you can find heaven under the mothers' feet. The Quran does not say to cut your mother's feet by explosion and suicide attack.
Women's dark night will turn into a bright day. There is no other choice, the sun will rise. Women mastered patience when they carry a baby for nine months before giving birth and dream of embracing the baby someday. Even though suffering has been a constant part of their lives, they still follow this path, persevering. Freedom and achieving their rights requires time as well.
But how long will it take?
The hands of the world's clock seem to carry the right of freedom, happiness, the right to work, the right to education, but some people play with this clock and take out the hands of progress.
The destiny of women in the random movement of the hands of this clock seems unknown. If women wait for the clock, they will lose opportunities, get old, their hands and feet get wrinkled, and they won't follow the path of their fate.
When will be the exact moment for their voice to be heard and answered?
Doesn't this amazing and crucial day, March 8th, remind us of the clock with its hands removed? Isn't it time to put back the hands in their place? Isn't it time to claim our rights?
The real position of women is exactly next to men. Despite all the hardships, shortages, and restrictions, women don't give up. They are determined to prove their identity is rooted in their awareness.
These political and social endevours in the west and east are illuminating like bright sunshine.
Determined and courageous women, with research and hard work, do achieve their goals. Eastern and western women have achieved epic goals; they can be mountain climbers, athletes, physicians, engineers, inventors, like The Afghan Girls Robotics Team, become a minister like Diana Burn, and be a leader like Bilqis in India.
Women could be queens, in not one, two, or three countries, but many countries, like Queen Elizabeth.
A society approaches humanity when women have their everyday rights. They could enlighten society in a way that even the blind could see.
We should start now, before ignorance turns into a disaster.
This fight is not only the responsibility of women, but men and the whole world. We must step forward hand in hand.
Afghan women, even with all the restrictions, know their capacity. They understand their society, know their needs, decide consciously to object, and raise their true voice. We just need to give them a chance. March 8th is the day that everybody should hear that the voice of truth could not be silenced.
Isn't it blatant ignorance to deny the human rights of a human being? First of all, women are human beings.
Isn't it shameless that women sleep hungry so you could sleep full? You took the right to work from them, so they struggle their entire life until they die from hunger.
Isn't it shameless that you make women cry out who kindly sung lullabies for you?
Isn't it shameless that you break and burn the hand of the woman who prayed for your long life?
Isn't it shameless that you make a woman feel miserable and destroy her mind for your satisfaction, despite her sickness, or her fake smiles to hide her pains?
How you could blatantly use your weapon against their pen. To terminate, and shoot them, raising the ugly voice of ignorance, and don't let them learn?
Isn't it shameless that you made rules to restrict women while the first rule of their life was to create peace of mind for you?
When you were a child, a woman held your hand as your sister, and supported you to study and grow up. Isn't it shameless that you don't let her breathe and educate? Why do you burn her books and pens and break the wings of her rightful desire for knowledge?
When you close the schools' doors, remember that you will not see the height of the sky if she doesn't fly. God has created us to have a beautiful mind. We have been born for knowledge, not ignorance.
Women are the most enlightening faces and a blessing from God, it is ignorance to burn their faces or attack them with acid.
Women have been standing as your shade in the hot plains of life. Don't break them down.
Cutting off the nose of a woman who you comforted with your smell in her sleepless nights isn't weighing on your conscience?
Isn't it shameless that you dishonor a woman with burning, violence, and sexual assault while she has sacrificed her life for your comfort?
Isn't it shameless that you force children to be silent when they sing about the magnificence of life and say the color of the sky is the same as your color and that it is beautiful? Why does describing the beauty of the sky bother you?
You've sold your homeland and your mother, you've caused a daughter, a sister to be sold. Shame on you!
I believe we have a long way to go to eradicate ignorance. The most crucial tool is our efforts, and we all are responsible.
I consider myself responsible for writing about the pain of women in my country, as I saw myself how they suffer. I am responsible for making a difference in the life of women, men, and children of my society. From 2010, I started my activism. Teaching, training, and informing people was the first step in my path, as the way to make changes to save my country is to remove ignorance and lack of knowledge in our society. Especially to focus on women's education.
I was never going to get tired, and my work was my peace of mind. Anything about my work and activism is impossible to write about in this article, and I will write about them in another article. That was the beginning of my achievements.
I wasn't the only one who deemed myself responsible for studying more and being the voice of women of my country. This was the responsibility of all the women. Of those who asked themselves why the mother's name is not mentioned in official documents like our National Identity Certificates (Tazkira) or Birth Certificates? Why must we wear a compulsory dress? Why must we think in a certain way? And so many other questions.
Challenges, restrictions, and discriminations against women exist in the east, west, and worldwide. Rape, sexual abuse, and the lack of rights to have an appropriate job are apparent everywhere.
The memory of women is strong, and their prior and current hardships cannot be forgotten. What will you feel if you put yourself in the place of all the female victims just for a moment?
I put myself in the place of a girl captured by the Taliban many times. While you are reading this article, can you imagine their situation in the prisons for a few minutes?
Did you ever put yourself in the place of little street vendor girls? Next to the roads, they do backbreaking work and face humiliation and abuse, but they have no other choice and continue over a piece of bread for their homes.
What is the fault of a girl regarding her gender? Could life have any meaning to this girl?
Did you ever put yourself or your daughter in place of Amena, the girl born during a suicide attack in a birth center? Her mother became a martyr in that attack, and a few hours after her birth, her little foot got injured. I see the closed and half-closed eyes of Amena and feel the cries and the pain in her little wounded foot in my daughters. The pain is the same.
In the attack to Kabul University, which was the place where all the girls could get knowledge, and I studied there for years, for what crime people were slain? Do you remember Soheila? A suicide attack ended her life. She wanted to become a writer. When I write, I feel that I have her pen in my hand and write about the pain she cannot write.
Pens of thousands of females like Soheila should be picked up, and we should write on their behalf.
On that day, she was whimpering from pain and cried, 'Mother! Mother!'.
We are committed and we will not let your pens stop writing.
I consider myself responsible for writing against tyranny, dictatorship, inequality, and ignorance. I must write about the fear of little girls when their older brothers tell them, "Don't cry! If you cry, I will call the Taliban to come and kill you."
The mindset of children in my country is fear like this.
Assassination and bloodshed took the place of peace and friendship. Why?
I can hear the silent screams of a woman mourning for her lost child. They couldn't take out Heydar, her darling child, from a 16-meter well, how could they take this nation out of a crisis?
For many years they have assassinated engineers in suicide attacks, without any crime, and abandoned the knowledge. If engineers could live, Heydar would be in his mother's arms, not in the arms of death.
All women, hand in hand, let's make a new world, a world that we can be heard in. Promises could last, our achievements could be appreciated by ourselves and by the world. Don't let us be forgotten! Despite the assaults, tyrannies, and violations that push us back, let's step on the right path.
Do you remember what the late Meena Mangal, an Afghan journalist, said?
With our voice, we must awaken the United Nations and all the people in the world to keep them informed to act now. We must provide security for the girls whose ears are cut off, they are not safe to go from home to a police station or school and likely be raped. Understand women and girls, stay by their side, encourage them, and support them. Women have capabilities and talents, let's give them a chance.
March 8th shouldn't be a symbolic day, it should be the day for action. At least on this day, some systematic programs should be initiated to change women's situation worldwide.
Doing nothing will end us. Until our last breath, until we have answers to our questions, until we change the situation, we oppose the challenges and seek justice.
If we could take a picture of the soul and mind of women, it would be the most viewed photo in the world.
Don't let girls be sold due to poverty and unemployment.
As an Afghan woman, I am proud that Afghan women today have one voice, talk about their common pain, and inform audiences by their pens or actions. It is not easy and will be time-consuming, but we must resist and shine.
I finish my article with a poem from Hanzala Badghisi:
If lordship in a lion's jaws should hang,
Go, run the risk, and seize it from his fang;
(If the honor is in a lion's jaws, you must take the risk and take it from him.)
Thine shall be greatness, glory, rank, and place,
Or else, like heroes, thine be death to face.
(You will find the greatness, wealth, and rank, or you will face death like a real human.)
I hope March 8th could be the day that there are no street vendor children and girls, and we could see girls at the schools with white chadors.
Women's voices won't be suppressed but must be heard, we could embrace equality and raise our voice by any means and find the answer to our question.
The world must not watch but act!
Neelam Sarwari