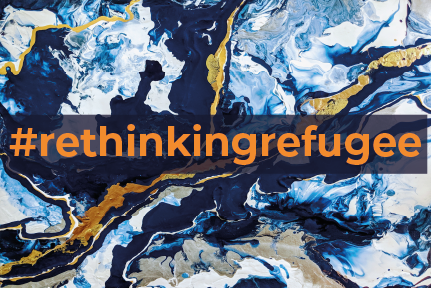 #rethinkingrefugee for the 2020s: A new decade
Over the last decade, forced migration has been on the rise.  
At ACH, we set up our #rethinkingrefugee campaign in 2015 as a response to the negative portrayals of the refugee 'crisis' in the media.  
At the turn of the decade, it has never been more vitally important that we challenge negative imagery in popular discourse, as forced migration will continue with the climate crisis and political unrest.  
At the end of the decade, this article will look at the lessons we can learn from the 2010s, and how we can move forward into the 2020s. 
It was 2015, displacement of people by war and persecution had reached an all-time high. According to the UN Refugee Agency, 24 people were forced to flee every minute. The 2010s were marked by higher forced migration levels due to rising poverty, war, climate crisis and political instability. 
The media response was saturated with words such as 'flow', 'flood' and 'crisis', and soon the catch-all term 'refugee crisis' was born.  
At ACH, we knew we needed to respond to these negative and de-humanizing accounts of people 'swarming' to European shores. And so, the #rethinkingrefugee campaign was born.  
Why #rethinkingrefugee? 
#rethinkingrefugee is a call for those who read the phrase to think about the way they imagine and think about the word refugee.  
Rethinking refugee imagines a refugee as an individual person with skills, ambitions and unlimited potential. The term refugee is only a helpful one when describing the situation of forced migration. To label a person as a refugee, and a refugee only, is reductive and limits possibilities. 
#rethinkingrefugee deliberately uses refugee in the singular. Each person seeking refugee status is an individual, with a different story, personality and set of skills. We see refugees as individuals with skills, talents and aspirations, with the potential to boost our economy and enrich our communities. 
In the media, refugees are most likely to be spoken about as a 'crisis', a negative issue or threat, or as a humanitarian issue that requires charity and aid.  
Both these representations act to reinforce the idea of 'us' and 'them'.  
If we rethink what we mean by 'refugee', we can begin to break down this divisive rhetoric and humanise the word. We all have the potential to become refugees. All it would take is a politically unstable government, a climate catastrophe or a violent conflict.  
The power of imagination 
In a recent issue of the journal 'The Oxford Monitor of Forced Migration', researcher and journalist Kinda Hawasli shares her moving account of refugee experience: 
'Now, please close your eyes and imagine for a few minutes that you are a refugee... 
You have to accept that your new name—refugee—will be repeated in the news again and again, and you will be blamed for any failures or difficulties faced by countries. You will be the main subject of many politicians' stories, who will be proud of the money that their 'humanitarian' governments give for your sake, which is spent on conferences, workshops and luxury meetings held in five-star hotels. 
Don't be upset when the opposition parties use you as a part of their election strategy, promising their audience to deal with your cases and cleanse their country from your evil.'  
This passage forces the reader to imagine what it must be like to be labelled as refugee, to be given a 'new name' in media and political discourse. If we all imagined what this would be like, it forces you to realise we could all become refugees under different circumstances. 
Five years on 
It is now five years since we were inspired to create the #rethinkingrefugee campaign, and we still have huge strides to make. 
Over the next decade, we are likely to see increased forced migration due to climate change and extreme weather such as hurricanes. Political instability is also still turbulent in many places. These factors and those that are unforeseeable mean forced migration is unlikely to cease anytime soon. 
We need to continue to pay close attention to how we use language, and how we refer to people. We need to think about people as individuals, with dreams and aspirations that differ from each other. We need to continue to challenge discourses that stereotype, label and homogenize.  
#rethinkingrefugee going into a new decade... 
At ACH we translate this attention to language and thinking differently into our project and training work.  
Going into the 2020s we have been awarded Home Office funding to implement an innovative new Entrepreneurial Support Project to deliver tailored support and act as a facilitator to potential and existing refugee entrepreneurs. We are implementing the INTEGRASS Toolkit, an innovative assessment tool that rethinks what integration means, and offers an integration model with individual choice and opportunity at its center.  
It is critical now, more than ever, that we continue to challenge and rethink the way the word refugee is used. We will continue to use our voice and lived experience to create innovative projects and dialogue that focuses on individuals, potential and opportunity.