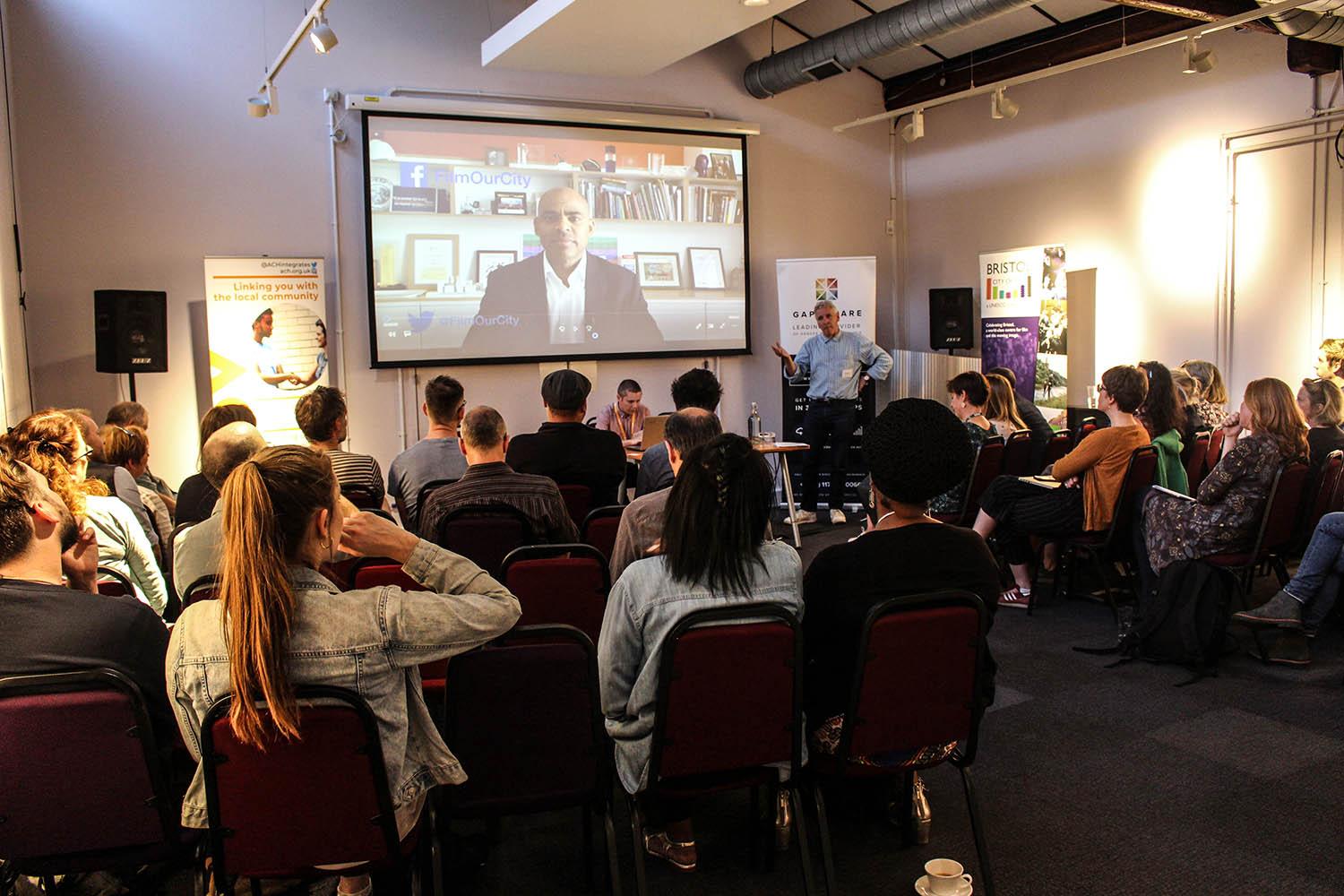 Tackling the Screen Diversity Gap
May 14th saw an exciting event take place at the Watershed in Bristol, with ACH / Himilo partnering with Bristol UNESCO City of Film, Gapsquare and Ujima Radio to discuss tackling the diversity gap in Bristol's film and screen industry.
The film and screen sector are at the forefront of Bristol's thriving and creative economy, with growing employment opportunities offered year-on-year. The imminent arrival of Channel 4 in the city and designation of UNESCO City of Film status underlines this.
Yet, Bristol is an unequal city, and more is needed to give all communities access to opportunities and to make sure that growing businesses can fill skill gaps using local talent. Businesses across the sector acknowledge the need to access diverse talent when recruiting and contracting staff, but many do not know the best way to do this.
"ACH / Himilo initiated the idea because we want refugees to get work in growth sectors like the film and screen industry, not just entry-level jobs as cleaners and security guards. We would like to thank Bristol UNESCO City of Film for making it happen". David Jepson, Director, Himilo.
The event was opened by Natalie Moore, who introduced Bristol's designation as a UNESCO City of Film, a worldwide group of creative cities working together towards a common mission for cultural diversity and sustainable urban development.
She also introduced the audience to the Our City film competition, showing the two winning entries from 2018. You can view these at https://www.youtube.com/watch?v=hXG9QAyaRgc and https://vimeo.com/332425096.
Dr Zara Nanu from Gapsquare shared the data on media diversity in Bristol, with representation of BAME at senior levels at 13% and representation of women in senior management roles at 41%, across the BBC, 131 companies and number of freelancers. Freelancers are nearly half of the workforce in this space, and 95% of those are from white backgrounds.
She covered both the positive effect this diversity can have on the profitability of a business, and the dangers in ignoring it.
As Zara pointed out: "It costs on average £17,000 per employee to deal with employment tribunals when you don't embrace & work on inclusive practices. It's time to close the Screen Diversity Gap."
The event considered diversity in terms of both gender and ethnicity, and covered the practical steps needed to be taken for the private production sector to become more diverse.
David Jepson from ACH / Himilo demonstrated how the untapped talent on our doorstep can improve the creative sector and lead to better performance, introducing the work ACH / Himilo and Gapsquare are doing together in offering a package of consultancy and analytical support to help organisations begin a journey to fair and diverse recruitment and retention.
Roger Griffith from Ujima Radio and Paul Appleby from Bristol Media introduced another possible solution, the Visualiser apprenticeship programme, which will be providing access for 10 talented, diverse people to undertake apprenticeships as Junior Content Producer, Digital Marketing or Broadcast Production Assistant.
The event then officially launched the 2019 Our City film competition, with a special video introduction by Mayor of Bristol, Marvin Rees.
Paul Appleby from Bristol Media echoed the Mayor's sentiments: "Bristol is bringing people together. We will be working with young people in media this summer for the Our City competition. Let's get young people from diverse groups involved! I'm really pleased to be able to launch the Our City competition for 2019 at our Diversity Screen Gap event this evening!" 
A panel discussion followed, hosted by Roger Griffith, and featuring Bashart Malik (Director & DOP), Kate Cook (Producer, Transparency Films), and Michael Jenkins (Producer/Director 8th Sense Media). They discussed frankly what the issues are and possible solutions, including the upcoming conversation on BAME participation and representation in the film industry on 8th June at The Cube.
The event then saw Deputy Mayor, Cllr. Asher Craig, speaking on how Bristol City Council and others in the city are working to address inequality, and how we can ensure the growing creative/film sector in Bristol is diverse, inclusive, and representative.
"We have to stop counting the heads and make each head count", said Deputy Mayor Cllr. Asher Craig.
The evening finished with further discussion over a lively networking session.