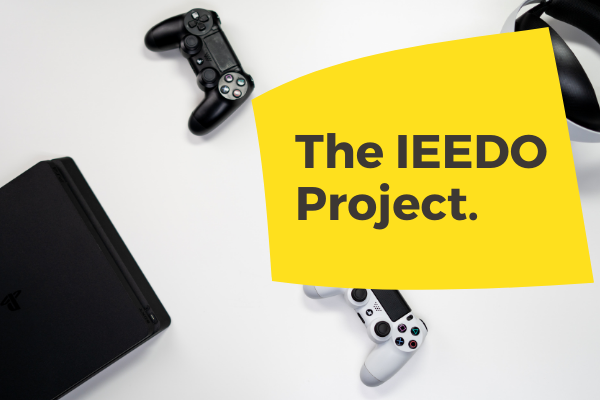 Supporting Refugee Communities with Digital Self-Learning
Partnering with 5 organisations in Germany, Greece, UK, Sweden and Spain, the IEEDO project aims to support refugees and migrants by Increasing and Enhancing Effective Digital Opportunities | IEEDO.
What is the IEEDO Project?
For refugees and migrant's socio-economic integration is essential for long-term employment, community participation and ultimately happiness. Adult education is just one of the critical roles in supporting an individual on their integration journey. However, the traditional, costly, ineffectual "chalk and talk" learning approach is outdated and no longer fits the skills market that is changing so rapidly. With the COVID 19 pandemic also dismantling much of the existing infrastructure, the hard to reach have been left even more isolated.
To address these challenges, an innovative approach is required. That is where the IEEDO project comes in! Securing funding of just over €300k through Erasmus+, the project aims equip refugees and migrants with the skills and knowledge for digital self-learning. Thus, building resilience through innovative customised eLearning resources. The project will also support adult/ community education providers and tutors, to reduce the disparity individuals face in European adult education.
Over 36 months, ACH and project partners will together engage with 60 coaches and 300 refugees and migrants. As well as a range of stakeholder organisations to validate and design three specific Intellectual Outputs.
The 3 steps to the IEEDO project
Coaching Curriculum Program - to support Digital Self-Learning with specified and detailed learning objectives, and content development for tutors who target refugee and migrant communities - many who are earlier generation refugees themselves.
The IEEDO Digital Kit – to build resilience and progression in Digital Self-Learning skills. The Digital Kit will be an interactive eLearning resource, using a videogame-based approach. Designed to provide stimulation and take individuals beyond the poor digital inclusion offer.
The Pedagogical Guide and Digital Resource Pack for Coaches - to ensure adult/ community learning organisations and tutors are equipped with the skills and knowledge to accompany the IEEDO Digital Kit.
Re-Thinking Refugee
With 5 partner organisations in 5 different countries, the project will bring together a variety of digital coaches through transnational staff training events. Enabling us to validate developed resources with a diverse range of refugee and migrant learner communities.
The IEEDO project strongly supports our #rethinkingrefugee program which focusses on providing "good help" and incorporating research into the development of curricula and training for professionals. Without this "good help", poverty becomes entrenched with 75% of refugee individuals never progressing from entry-level jobs. #rethinkingrefugee challenges this paradigm by aiming to progress the individual towards median salary positions. The IEEDO project and its activities will continue this vital work to give refugees and migrants the opportunity to be in the interview seat for a new wealth of jobs!
Ultimately, IEEDO offers a flexible, sustainable solution that is scalable, transferable and replicable. The long-term vision is that through the IEEDO model of Digital Self-Learning, new avenues for effective adult and community-based learning with refugees and migrants will be opened. To ensure everyone is given a fair chance to access adult education and no one is left isolated or excluded.
We are currently in the launch stage of this project so, keep an eye out on our website and social media for updates on the results and impact this project is making.
ACH is passionate about ensuring everyone is given the chance to reach their ambitions and live an independent life in the UK. We have recently launched the CTI project in collaboration with national homeless charity, Crisis. Read more to find out how else we are supporting our tenants sustainably move on from supported housing and into employment.
For more information on the IEEDO project please contact Tom Dixon - tom.dixon@ach.org.uk